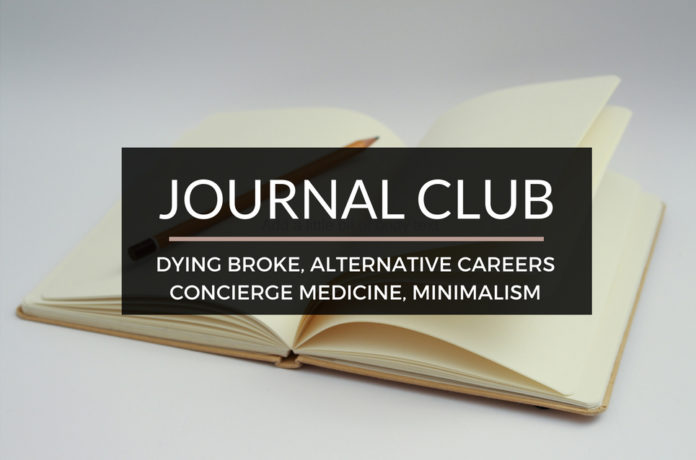 Topics: Dying Broke, Alternative Careers, Concierge Medicine, Minimalism, Happiness
Every week, I hold a JOURNAL CLUB. After manually filtering through the millions of articles out there, I present a few that I think are extremely impactful. This will help lay the foundation for some of the topics that we'll dig into on this website.
Jamie Fleischner of Set for Life Insurance is on the hot seat this week!
Here's our Journal Club for the week, enjoy!.
Knowing friends, colleagues, other physicians, other bloggers are actually reading this blog has kept me accountable to follow the things I preach. How I spend my time and money is at the heart of everything and part of the place I struggle is giving up on opportunities to make money, especially in my day job as an anesthesiologist.
Giving up a shift at work is mentally like giving up X amount of cash. For example, if I give up a shift to go to dinner, it sneaks into my head that that dinner cost me whatever the dinner was plus the lost income. However, I'm trying to free myself of this. Anyone else dealing with the same thing?
The only way to break myself of this is to focus on the value of what I gain, and why I'm doing it. Case in point, last night I gave up a shift and went to an amazing event that happens in my city each year that looked like this. (Photos courtesy of my iPhone.)
Sure, I missed out on an opportunity to make money, but I'll look back on this fondly year after year. Also this was an opportunity to go out with my wife without the kids, priceless!
Thanks for your continued support of the site. Have a great week!
Passive Income, M.D.
Sponsor Q&A
Jamie Fleishner, President of Set for Life Insurance 
I see that you often put a dog in your ads, what's with that?
Well, I'm a huge dog fan. I have 2 Border Collies!
You also mention that women can save more with your company. I want to know, how exactly do they save more?
We have unisex, discounted rates set up throughout the country. Women pay twice as much as men do for disability insurance. Therefore, if a woman can obtain a unisex rate, it negates this disparity and reduces the rate by 50%. There is an additional 20% discount which results in about a 70% discounted rate. Men are not paying more for these rates since there is a discount. Their net discount is about 15%.
Since 1993, Set For Life Insurance has been a national leader in helping thousands of physicians with their disability insurance needs. They have the largest portfolio of available exclusive discounts in the country. Set for Life also has the largest availability of unisex rates nationwide helping women save significantly. As independent brokers, they shop around and help compare plans to find the most suitable policy at the best available price. Jamie Fleischner, President of Set for Life, is known for her responsive, knowledgeable, and down to earth manner when working with her clients.