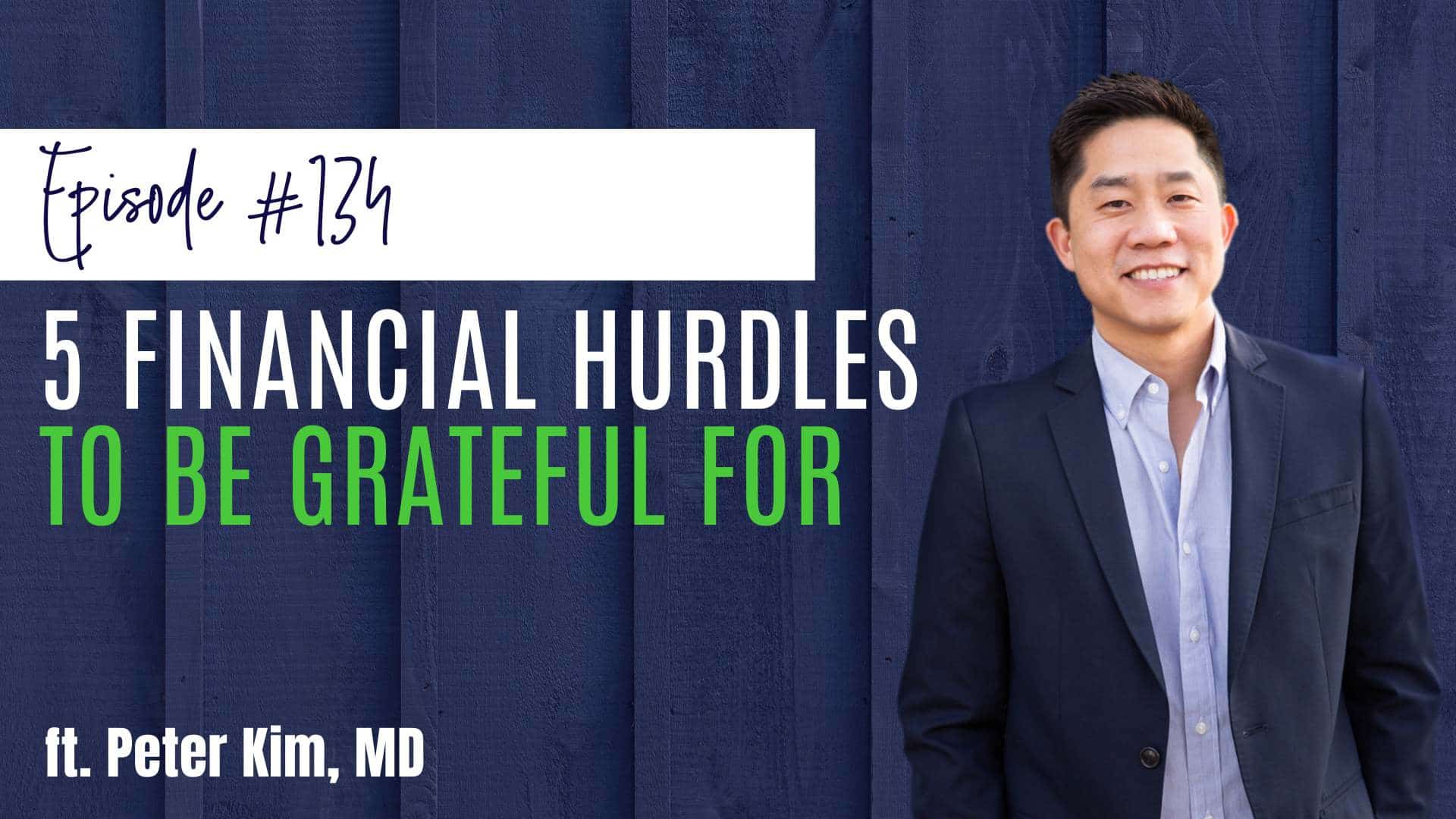 Episode #134
#134 5 Financial Hurdles To Be Grateful For
There is value in looking to the past and being grateful for what you have experienced. You've heard it said that gratitude is the key to happiness. Each morning, devote a few minutes to recall what you are thankful for… the people, the experiences, or the challenges you've had to overcome. The truth is, you wouldn't be who you are today without them! The hurdles you have crossed are what have strengthened you.   
In this episode, Dr. Peter Kim passes the five financial hurdles I'm thankful for. 
Join our community at Passive Income Docs Facebook Group by CLICKING HERE. 
3 Min • November 21
Episode Highlights
Now, let's look at what we discussed in this episode:
Thankful for the hurdles you have crossed

Thankful for credit card debt

Thankful for student loan debt

Thankful for the lessons learned through the stock market crash

Thankful for trying to settle in as a practicing doctor
Episode Breakdown
[1:56]
Thankful for credit card debt. In college, Peter learned to grind and hustle to make ends meet. In college, because of his lack of knowledge, Peter gained a mountain of credit card debt. Later in life, he learned how to use a credit card to take advantage of the points or rewards and pay it off monthly. When the balance zeroed, Peter overcame a challenge he once thought impossible. Being under a mountain of debt taught him what it feels like to be captive to it.
[3:57]
Thankful for student loans from college and medical schools. By the end of School, Peter had acquired a 6 figure sum of student loan debt. While in school, Peter attended a lecture on student loan debt. He learned about refinancing, locking in lower rates, amortization, interest rates, and paying it off versus investing. Peter used the cash back from investing to pay down his debt. By overcoming this hurdle, Peter learned the power of passive income to pay off his student loan debt and lifestyle. He is grateful that he learned to use debt as a tool to get the life he wanted. Ultimately, that led Peter to a place of financial freedom.
[5:01]
Thankful for lessons learned through the stock market crash of 2000. As a research assistant while in school, I learned to day trade and invested in the stock market. When the crash of 2000 came around, Peter lost 75% of what he had and locked in his losses by selling low. In that moment of loss, he went from a confident investor and learned that it wasn't his area of excellence in passive income. From that moment on, Peter started his journey into passive real estate investing, where he could find steady cash flow.
[6:20]
He is thankful for the purchase of his first home. After completing his fellowship, Peter was ready to settle down and purchase his own home. After Peter put an offer down on a home, he could not secure a loan due the medical debt that had been acquired. A friend pointed him toward a physician's home loan service. What he learned was passed on to colleagues, friends, and friends of friends. Through that, Peter realized there was a need to assist physicians by guiding them through purchasing their first home, and he created his first company called Curbside Reality. This side hustle taught me the value of entrepreneurship.
[8:21]
Thankful for settling in at work and in life. Peter learned that even in medicine as a doctor, his career was not as secure as I thought it would be. Job security with medicine is not as secure as it was in years past. Because of this realization, Peter learned to create other income streams outside of medicine to have the security he wanted to live the life he wanted. Because of this hurdle, Peter learned how to invest in real estate, syndications, and funds — how to use the capital earned in his day job and invest in what would become another steady stream of income that would not be controlled by my time.
[10:02]
In conclusion, we all want life to be without a challenge. But in truth, the hurdles you overcome shape who you are today. Facing rejection or failure teaches you to become resilient and resourceful to move past the struggle and land where you want to be. Finding gratitude for the hurdles you have crossed will shift your perspective and response to life's most challenging moments.