This is an interview with Clint Gossage, Founder of CMG Financial Consulting.
What is your background? Why did you start your firm?
I have been in the Finance/Accounting industry for 16 years. My career began as a CPA with a Big 4 accounting firm in Kansas City. Match Day brought my wife and I to Arizona which is where we have been for the past 10 years.
Once we moved, I went through a rigorous interview process and was offered a prestigious position managing taxes, financial planning and a sizable investment portfolio for the heirs to the Campbell's Soup Fortune. I also ended up furthering my education by obtaining both my CFA Charter and CFP. I would love to say it was all because I was so motivated to learn. While the is some truth to that, my wife told me I couldn't be watching TV while she was studying and researching, so I needed to find something productive to occupy my time.
I ended up helping our friends at the hospital manage tax issues, student loans, and financial planning. I kept hearing that I should start a business doing exactly what I was doing for my friends that I finally listened. It was a big financial hit to leave my job, but I love what I do.
How do you build relationships with your clients? How do you guide them through tough situations?
Relationships require vulnerability and take time. In the beginning of a new relationship, we spend several meetings covering your complete financial picture. The most important of these are your goals, ambitions, and dreams. This can mean prioritizing early retirement, family support, travel, debt repayment or any number of personalized priorities.
After a few meetings, my clients can tell what kind of a person I am and that I care more about their well-being than how much money they have saved. Through my client conversations I have found that almost all of my clients have some sort of emotional pain they are dealing with. They might tell very few people about this situation, but they know our conversation is confidential and is a safe place to talk through how to move forward. You might also be surprised how often these emotional situations drive our financial decisions.
How do you evaluate a client's financial position?
I look holistically at a client's financial position. Of course, this means evaluating a client's assets and liabilities (often student loans), but also evaluating how much a client is saving, what they are doing with their money, and making sure a client is appropriately insured.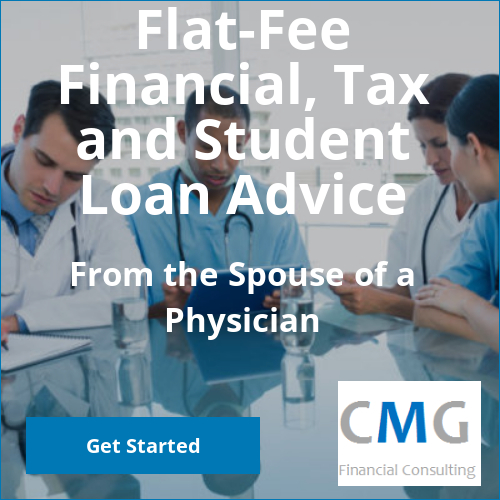 What is your investing philosophy?
Investing starts with your savings rate. If you aren't saving enough, your investment choices don't matter much.
Minimize taxes. This is your biggest investment expense. Take advantage of 401(k), IRA, and HSA space. In taxable portfolios, keep assets invested in funds that are going to have low turnover.
Invest in the right asset classes. Selecting the right mix of stocks and bonds drives 95% of your investment performance
Select low-cost index managers for >75% of the portfolio. In places, where active management can provide value (Emerging Markets and Niche asset classes), use active managers to fill out the remainder of the portfolio.
What are some underutilized financial resources? How do you stay current on industry developments?
Most people have no idea how much thy are saving or what investments they are holding. The two free resources I like are Mint and Morningstar.
Morningstar allows you to research your investments and know what you are investing in. My only caveat would be to ignore the Star ratings. It's far too easy to become enamored with selecting 5-star funds (even financial advisors fall into this trap). A 5-star fund will tell you how well a fund has done, but not how well it will perform in the future.
Mint is a free budgeting tool and allows you to easily track your spending. It's the only financial tool my wife likes to use.
Keeping up with the industry is pretty easy. I have continuing education requirements for all three of my certificates and I love what I do so I'm reading constantly.
How do you deal with doctors specifically and why do you like working with them?
I didn't set off to work with doctor's, but the fact that almost all-of our friends our in the field, and my own experiences, makes it very easy to understand the unique complexities doctors have. The most common client I see is struggling to pay down their student loans while starting out their career behind their non-doctor peers in saving for retirement. We start by putting together a loan plan and then building off-of that a cash flow plan with savings priorities.
I like working with doctors because most want to look at the evidence behind the decisions being made and I am the same way. I enjoy walking through different scenarios and showing a client exactly why a recommendation makes sense.
What are some of the unique tax challenges faced by doctors with multiple streams of income?
As a CPA, tax planning is a big part of my practice. Doctor's with multiple streams of income have many tax challenges and opportunities related to the new tax code. Most doctors are at a high tax rate, so taking advantage of tax-deferred investment is critical.
Doctor's with multiple income streams also must understand how the entity structure they choose impacts their taxes (LLC vs S-Corp), income and deductions, whether they are eligible for an Individual 401(k), increased property taxes, and navigating whether or not they are eligible for the new Section 199a deduction. This last one is big since it is a potential 20% deduction but has several complexities.
Why do doctors need a financial advisor?
I don't think all doctor's need a financial advisor to be successful and I understand why many are wary of selecting one. My wife is a Surgical Oncologist and I understand the pressures and time constraints that go into managing patients and worrying about life and death situations all day long. While many physicians enjoy learning about finance and money management, I know just as many that want someone else to take that burden from them so they can focus on other things.
My wife often just wants problems to go away and not have to think about them. This is how I've tried to design my practice. I want to make the pain points of my client's financial lives go away. I provide value in taxes, investments, student loans, cash flow, etc., but the most valuable thing physicians have is time, so if I'm not making things more efficient for my clients, I'm not doing my job.
How much do you charge? Please list your fee structure.
If  there is a range of possible fees readers can expect to pay, what is the range and what determines where in the range they would fall? If you use AUM fees, be sure to list what a reader would pay with $100K, $500K, $1M, and $2M in assets.
One-Time
One-Time Financial Plan – $2,400
Student Loan Review – $250
Ongoing
Resident/Fellow Financial Planning –$50/mo
Early Investor – $350/mo (Up to $500,000 in managed assets, includes tax preparation and planning at no additional charge)
Foundation Builder – $675/mo (Between $500,000 and $1,000,000 in managed assets, includes tax preparation and planning at no additional charge)
Financially Independent – $1,000/mo (Over $1,000,000 in managed assets, includes tax preparation and planning at no additional charge)
What is the minimum amount of assets required for you to take on a client?
I don't have a minimum and many of my clients have negative net worth.