What is your background? Why did you start your firm?
I got started in the industry after graduating from business school in 2007. I took a job at Charles Schwab, in an institutional trading & portfolio management role. It was a wonderful opportunity to cut my teeth & learn the industry. As I started to move up the org chart, I realized that I wanted to work with people & families more directly. It was time for a career change: I wanted to be a financial planner.
What was really important to me when I made the change (and still is), was serving my clients in fiduciary capacity, as a fee-only practitioner. I looked around for opportunities at existing fee-only firms, but noticed that nearly all had asset minimums of at least $1 million. If you needed financial advice but didn't have that amount in your accounts yet, there weren't many fee-only advisors out there to work with. You were basically stuck going someplace like Edward Jones.
So I resigned, and started Three Oaks Capital Management in 2014. I wanted to work with people like myself, and there seemed to be a business opportunity since few other people were doing it.
It ended up being an excellent decision. The firm is successful, and having the freedom to build a business helping others is extremely rewarding.
How do you build relationships with your clients? How do you guide them through tough situations?
I'm a big believer in "say what you do, and do what you say". In my practice, it's imperative that we set appropriate expectations with our clients, and then back up those expectations with exceptional experiences. This goes a long way toward building stronger, long-term relationships. When life inevitably throws my clients curveballs, we're able to lean on those relationships to persevere.
How do you evaluate a client's financial position?
I like to start with a quantitative and qualitative evaluation. I ask all new clients to upload their financial "stuff" (brokerage & bank statements, tax returns, insurance policies, etc.) to a secure online form. We then review it together during our first planning meeting.
The quantitative side of the evaluation is straight forward. I use the data my clients share with me to create household balance sheets & income statements. Since this side of the process relies on hard data, it's less subject to interpretation.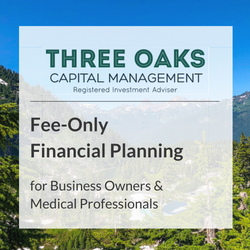 The qualitative part of the evaluation takes more skill and wisdom. My objective here is to really understand what my clients want to do with their time and resources. What makes you tick? What do you need from your savings to be happy & content? How do you react when things go wrong? What are we planning for?
My objective here is to fully understand my clients and what we're trying to accomplish together long term. Once these pieces are in place, we have a good idea of my clients' financial positions today, but also where they'd like to go longer term.
What is your investing philosophy?
I rely on data and empirical evidence to form my investment philosophy. There are many people in the academic world these days studying what actions and strategies lead to optimal investment outcomes. My philosophy is pretty simple: help my clients apply this research to achieve the best outcome for them. Here are a few highlights:
We do not time the markets. We favor a long term, consistent strategy.
We build portfolios that are globally diversified across multiple asset classes.
We minimize taxes and fees wherever possible.
When employing this strategy, I typically use DFA mutual funds and/or low-cost index funds.
What are some underutilized financial resources? How do you stay current on industry developments?
This may sound odd, but I think the major international financial publications are underutilized these days (the credible ones at least). The Wall Street Journal, The Economist, The Financial Times, and Barron's are all top-notch publications covering both the financial markets and personal finance. I think many of us get so caught up reading blogs these days that we tend to neglect traditional media. You have to be conscious of political bias of course, but the reporting is typically stellar.
On top of the publications listed above, I try to maintain strong relationships with other practitioners in financial planning and other related fields. I have a study group I meet with weekly, and attend conferences throughout the year to keep my finger on the pulse of the industry.
How do you deal with doctors specifically and why do you like working with them?
Two main reasons. First, doctors are usually well-rounded, interesting people. Most have hobbies outside their profession, and many are adventurous and enjoy travel. They're interesting. Secondly, doctors usually have vision, and are able to see possibilities that may not exist yet. This is really refreshing for me, as someone who helps people use their resources to live happier lives.
What are some of the unique tax challenges faced by doctors with multiple streams of income?
Doctors typically need to build their retirement savings over a shorter time period, since they're in school for so long and graduate with a great deal of debt. Finding creative ways to utilize tax advantaged savings vehicles is a very common issue. What's unique to doctors with multiple streams of income is that they can often set up more than one qualified retirement plan. Doing so thoughtfully can provide a massive benefit and tax savings over the long run.
Additionally, The Tax Cut & Jobs Act of 2018 presents some interesting challenges and opportunities. Qualified business income is now subject to a 20% deduction from adjusted gross income, subject to several different limitations. While this doesn't apply to income from rental properties, those who have side businesses should take the proper steps now to ensure they can claim as much of the 20% deduction as possible. Your eligibility to claim the deduction depends on several different factors, which can make finding the right strategy to maximize the deduction a very unique and personal thing.
Why do doctors need a financial advisor?
Not every doctor needs a financial advisor. Financial management is not as challenging as medicine. But to do it adequately you need to be committed to synthesizing a lot of information on an ongoing basis. If you find this interesting, and you don't mind spending free time boning up on the details of the tax code or your group's retirement plan, you probably don't need an advisor. But if you don't find this enjoyable, or simply can't devote the time, you'll have a much better outcome paying a professional for their help.
How much do you charge? Please list your fee structure.
If there is a range of possible fees readers can expect to pay, what is the range and what determines where in the range they would fall? If you use AUM fees, be sure to list what a reader would pay with $100K, $500K, $1M, and $2M in assets.
Three Oaks is a planning focused firm, so we charge an annual financial planning fee based on the complexity of our clients' situations. That fee is then billed quarterly or monthly, depending solely on client preference.
Our minimum annual planning fee is $5,000, and it ranges up to $10,000 – $15,000 and above in specific, complex situations. Clients who have multiple S-Corps, rental properties, and estate planning complications would find themselves on the higher end of the spectrum. Single income families without other complicating factors would be closer to $5,000.
I also manage money for clients, but it's not at all mandatory. There is an AUM fee that ranges from 0.5% to 1.25% based on the total amount managed. Clients do not pay both a financial planning and AUM fee, though. Financial planning fees are used as a credit against AUM fees.
What is the minimum amount of assets required for you to take on a client?
$0, although I do have a minimum annual planning fee of $5,000.