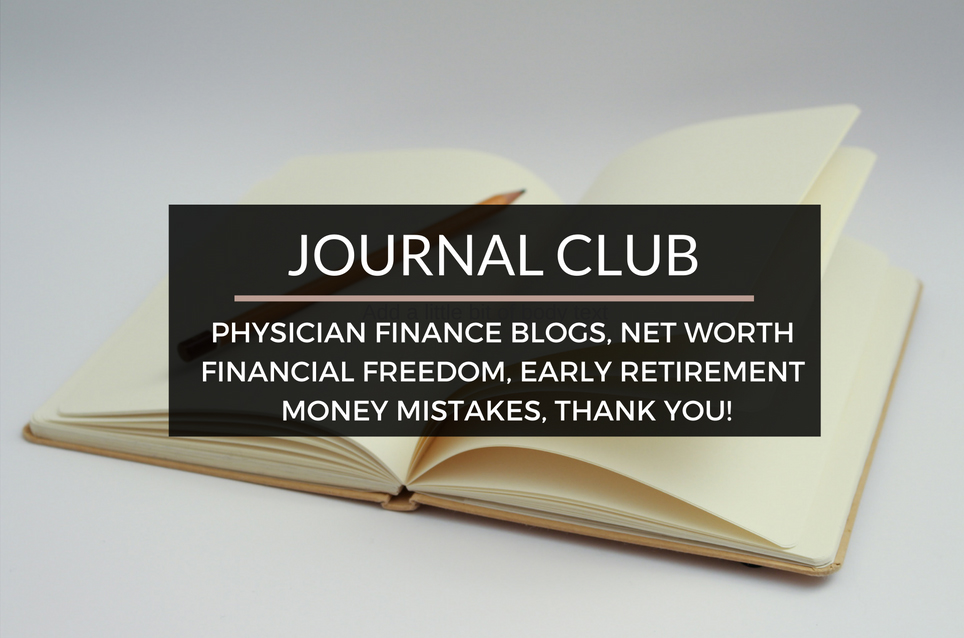 Journal Club 11-19-16
November 19, 2016 • 4 Min Read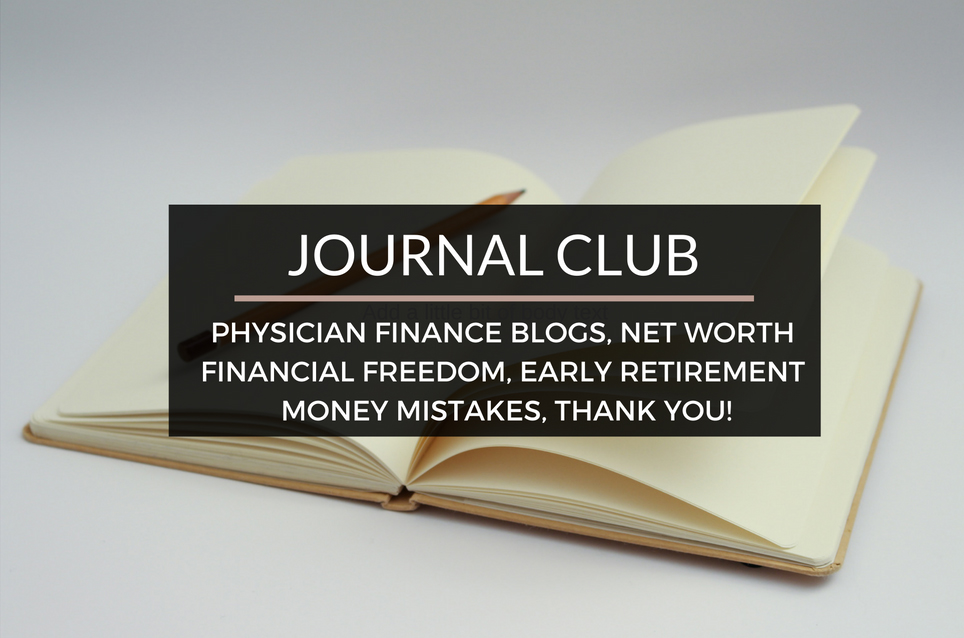 Topics: Physician Finance, Net Worth, Financial Freedom, Early Retirement, Money Mistake,Thank You!
Every week, I hold a JOURNAL CLUB. After manually filtering through the millions of articles out there, I present a few that I impacted my life this week. This will also help lay the foundation for some of the topics that we'll dig into deeper on this website.
Also hear why it's nice to live in Kentucky in the Sponsor Highlight.
Here's our Journal Club for the week, enjoy!
I've noticed a lot of new visitors to the site in the last couple of days, no doubt as a result of the shout-out from the White Coat Investor. Thanks for stopping by and I hope you stay a while. I'm always trying to add fresh, new, actionable content, however I'm open to ideas, suggestions, overall feedback, etc. Send them through this page.
This is the start of Thanksgiving Week so let me offer a couple quick blog-related "Thank You" shout outs:
Thank you for taking the time to check the site out!
Thank you to everyone who has sent me a comment, note, question, etc. I love it all.
Have a great week!
Passive Income M.D.
Sponsor Highlight
Johanna Fox Turner, founder of Fox & Company Wealth Management 
1) What are the top 3 things you love about where you live?
Wow, that caused me to stop and think!
a. The people here are the friendliest and most helpful on earth.
b. Fresh vegetables in the summer and cold, snowy winters (if we're lucky).
c. Our excellent school system (including the University of Kentucky. Go Cats!)
2) Can you help physicians all across the country?
Yes, we serve physician clients from coast to coast. About 90% of our doctor clients (we serve dentists, too) are "non-local" and we meet via FaceTime, Google Hangouts, and AnyMeeting.
3) Why did you decide to focus on physicians?
To tell the truth, it's because my strong personality is pretty compatible with doctors, plus I have the right skill set (35 years as a CPA, 10 years as a CFP, fee-only). It's a good combination. However, it wasn't until WCI started his forum in January 2016 that I really had the opportunity to interact and connect with doctors (which I prefer to buying ads, if possible). We have had to scramble to keep up with the new business, for which my team deserves all the credit.
Fox & Company Wealth Management​
Johanna Fox Turner, CPA, CFP ® , RLP ® is the founder of Fox & Co. CPAs, Inc. and Fox & Co. Wealth Management, a fee-only financial planning and investment management firm for doctors. She has 35 years of experience advising HNW clients on wealth protection, comprehensive financial planning, multi-state tax services, estate planning, business consulting, and succession planning. Both firms provide virtual Fixed Fee and hourly advice to clients throughout the USA and Mexico. If you're too busy to juggle multiple advisors and want to clarify your finances, schedule a free consultation here.
Disclaimer: The topic presented in this article is provided as general information and for educational purposes. It is not a substitute for professional advice. Accordingly, before taking action, consult with your team of professionals.