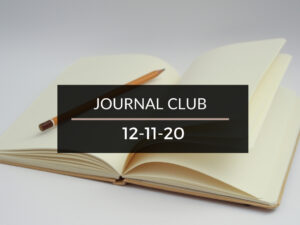 Here's Journal Club 12/11/20! Every week, I hold a JOURNAL CLUB. After filtering through the articles on the web, I present a few that impacted my life this week. Be safe and stay well!
---
For those of us whose goal is financial independence through passive income, we know that there's a lot of number-crunching involved. One of the most important reasons is forecasting your passive income. That way, you'll know how much income to expect and how to plan. This is exactly what Financial Samurai covers in this post, as well as a few mistakes he's made along the way.
FOMO, or the Fear of Missing Out, is kind of a problem. It leads to a lot of anxiety and stress, and can ultimately lead us to make some bad decisions. But how does this phenomenon affect our investments? In this article from the Physician Philosopher, FOMO and investing are covered in great detail. If you've ever missed out on an investment, this is a great read for you.
I love learning about different ways to invest in real estate. It's also great to hear people's personal experiences and their unique knowledge on the subject. That's exactly what

this post from Debt-Free Doctor

is all about. If you had 200k set aside for investing, how would you spend it? After reading this, you may have a few new ideas.
The holidays are upon us, and Get Rich Slowly has

a great gift guide

for those special someone. The gifts mainly relate to finance and self-improvement, which, much like the Jelly of the Month Club, is a gift that keeps on giving the whole year.
That's it for this week! I hope Journal Club 12/11/20 was helpful to you.
Lastly, here's a little bit of motivation below. Enjoy and have a great weekend!
---
For those who do end up using my specific link to purchase the course & join the community, you'll receive the following bonuses:
BONUS #1: One virtual pass to Financial Freedom Through Investing in Real Estate Conference 2020 (PIMDCON20)

($247 Value)

BONUS #2: One VIP virtual pass to next year's Financial Freedom Through Investing in Real Estate Conference 2021

(PIMDCON21) ($397 Value)

BONUS #3: How To Invest in a High Cost of Living Webinar

($197 Value)
If interested, you can sign up for the course here through this exclusive link:
---

---
---