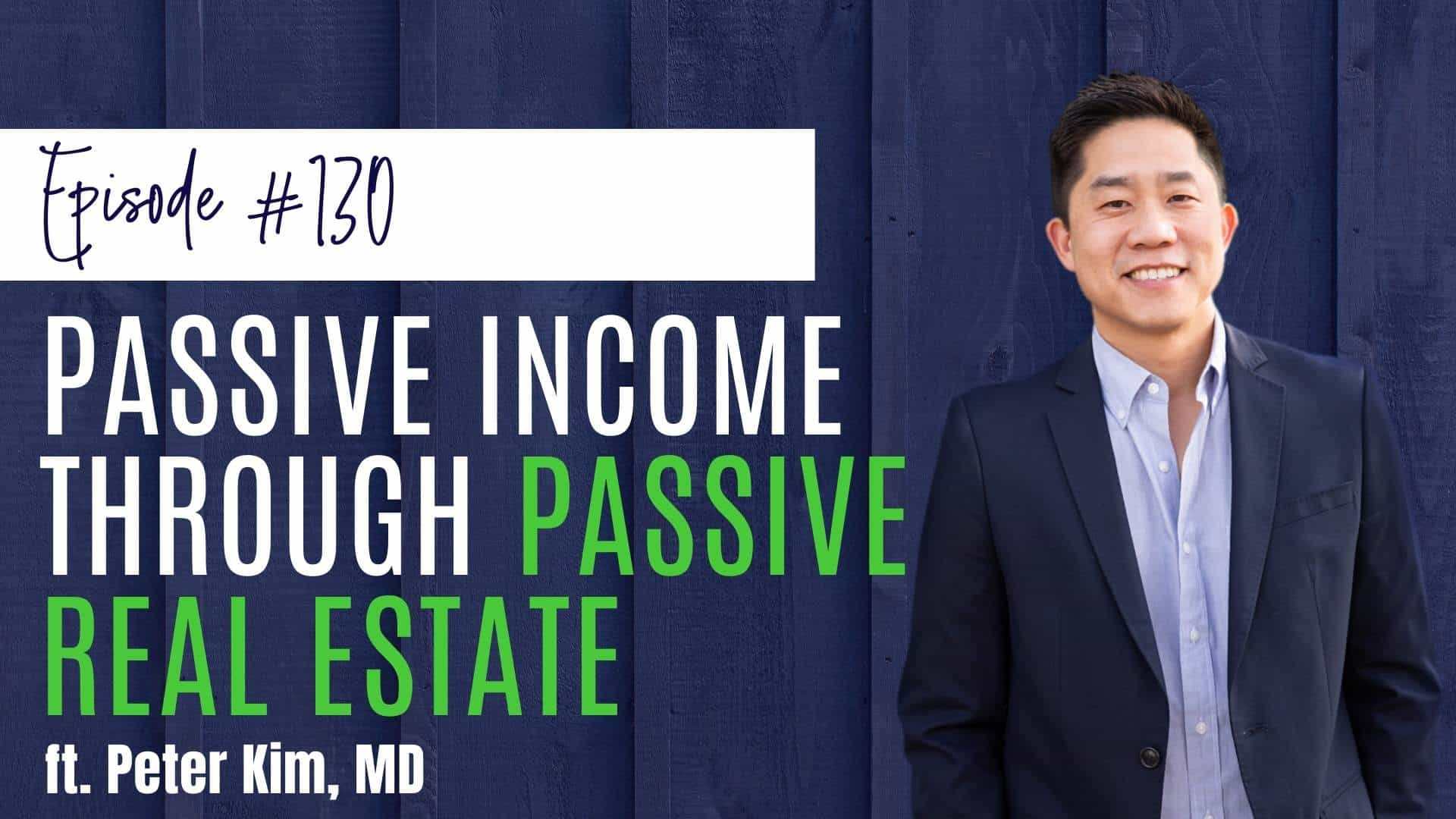 Episode #130
#130 Passive Income Through Passive Real Estate
Passive real estate investing is a great vehicle to generate monthly cash flow. Many question if real estate is truly passive income. The answer to this question depends on how you look at it. Dr. Peter Kim defines it as "income that is not proportional to the time you put into acquiring it."  
In this episode, Peter will discuss the three keys that he advises passive real estate investors to have: diversification, know the market, and hire professionals.
No matter if you have zero knowledge or are ready to go to the next level in real estate investing, join the Passive Real Estate Academy and gain the skills to accelerate your journey. CLICK HERE to learn more.
October 24
Episode Highlights
Now, let's look at what we discussed in this episode:
Definition of "passive income"

Definition of "passive real estate investing"

Key one is to diversify through REITS, syndications, real estate funds and real estate notes

Key two is to watch the market and know the neighborhood

Key three is to hire professional help and a good financial advisor who understands real estate

Key four is to take action!
Here's a breakdown of how this episode unfolds.
Episode Breakdown
[1:30 ]
Dr. Peter Kim defines passive income as "income that is not proportional to the time you put into acquiring it." Meaning that time does not equal money. The goal of passive income is to break the link in the chain between time and money. When passive income works for you, the time you put into it is not proportional to what you make out of it. 
[2:44]
Passive real estate investing occurs when you don't take on the role or title of "landlord." Instead, you are leveraging other people and companies by investing in their deals.
[3:10]
The First Rule: Diversify
Diversifying real estate income streams is the key to balancing risk and reward. Syndications, REITs, Real Estate Funds, and Real Estate Notes are all viable (and pretty profitable) ways to create that passive income. And the best part is you can get started today. You should also diversify significantly with the actual asset class itself.
[7:30]
The Second Rule: Watch The Market
Paying close attention to the market has a huge impact on your portfolio as a real estate investor. Also, know the areas where there is growth, job opportunities, and neighborhood. Savvy investors say that there are ways to make money in whatever market environment. You just have to be cognizant of what works at what time. In fact, more money is typically made during downturns than at any other parts of the cycle.
[9:12]
The Third Rule: Seek Professional Help
This may include hiring an accountant, CPA who understands real estate, a bookkeeper, lawyer, and even making sure your spouse or significant other is on the same page as you. After all, this individual has a huge impact on your free time, decision-making, money, thoughts, and ambitions.
[11:41]
The Fourth Rule: Take Action
The point is, the best way to get started is simply by educating yourself through books, courses, and conferences. And learning by experience, of course.
Are you ready to start your journey by creating passive income through real estate? Then click below to the waitlist for our next class season. We will take you from zero to confident. There is no obligation to join our waitlist! See you on the inside!