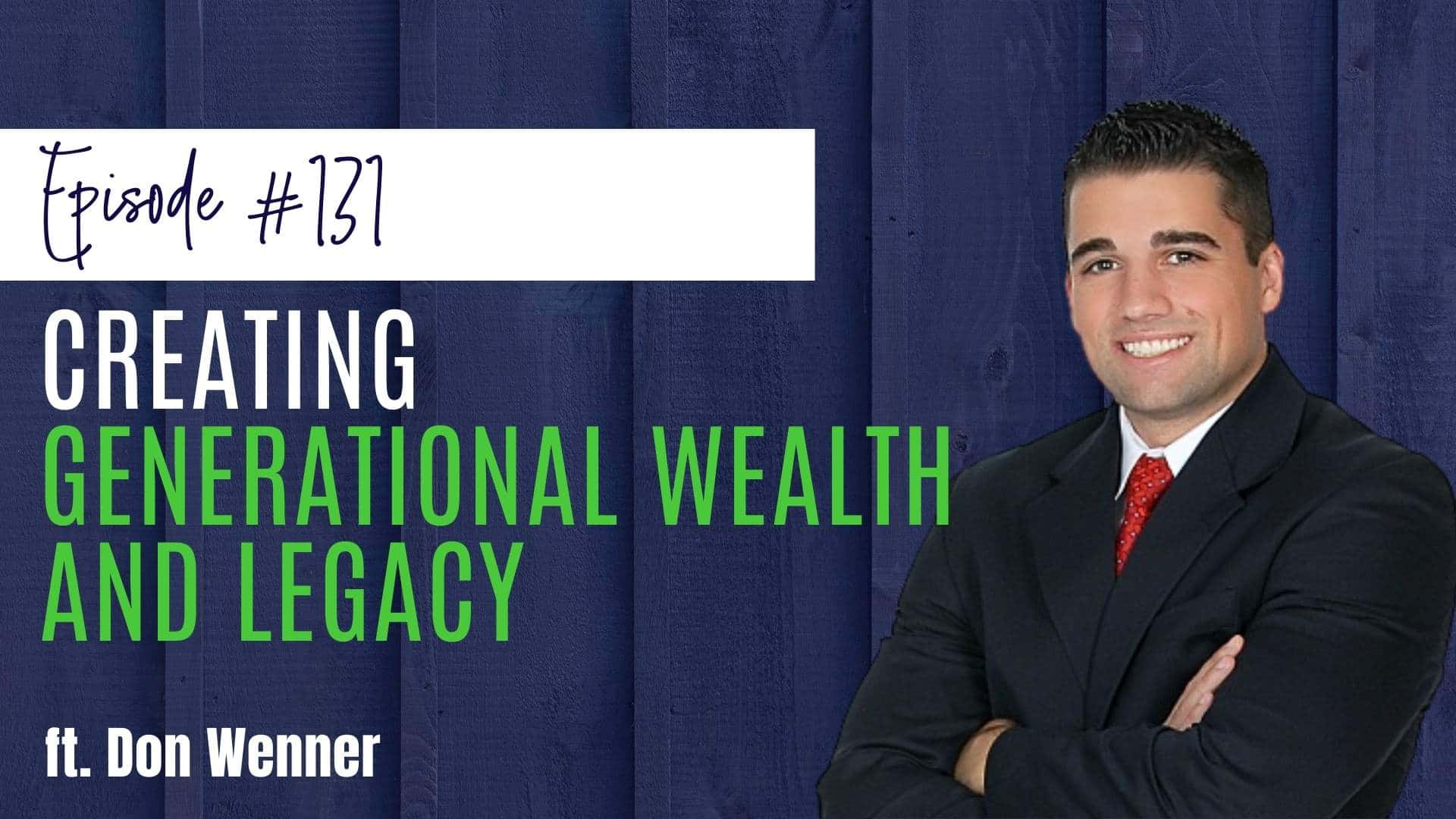 Episode #131
#131 How To Create Generational Wealth And Legacy, ft. Dr. Don Wenner
In this episode, Peter interviews Don Wenner, the founder, and CEO of DLP Capital, one of the fastest-growing private companies in America. 
Don will share his inspirational entrepreneurial journey, talk about smart investing in today's world, how to face uncertain risk, what to look for in a sponsor you can trust, evergreen investing, and how to create lasting generational wealth.
To learn more about DLP, CLICK HERE
3 Min • October 31
Episode Highlights
Now, let's look at what we discussed in this episode:
Meet DLP Capital

Don's Inspirational Entrepreneurial Journey

Business is solving people's problems

Current problem: we are housing shortage in most of the United States

How to leverage the current market rates, inflation and finding a good deal

DLP offers evergreen investment funds
Episode Breakdown
[1:00]
DLP Capital is a private real estate investment and financial services company focused on marketing and IMPACT by acquiring, developing, and building relationships, housing, leaders, and organizations. 
As a high-growth IMPACT investor, they focus on leveraging capital with real estate-backed investments to build wealth and prosperity for all our members, investors, clients, and partners.
Through the Elite Execution System and the company's exclusive membership platforms focused on business scaling, investment housing, family, and wealth… 
DLP Capital impacts lives by empowering its clients to choose, create, grow and preserve prosperity.
[4:15]
Don's inspirational story that began when he was in 8th grade when he chose to become a Financial Advisor and his entrepreneurial journey over 17 years.
[7:35]
DLP Capital was born out of solving people's problems. Each problem presents a new business opportunity. Now DLP is in the business of… Selling ➝ Lending ➝ Renovating ➝ Management ➝ Construction ➝ Communities ➝ Generational Wealth ➝ Family ➝ Healthspan ➝ Lifespan.
[13:47]
The current problem we face is that we have a housing shortage in most of the United States. We have an under-supply of the current market that differs from 2006 when there was an oversupply. The fundamentals of supply and demand are drastically different today than in the last recession. Rental growth is strong and demand exceeds supply for affordable housing. 
[16:09]
Don and Peter discuss how to leverage the current market rates, inflation and finding a good deal. Because there is less competition in the market, people are in distress with their loans and they need to sell. Therefore, there are more opportunities to buy.
[17:17]
DLP offers evergreen investment funds. Real estate, throughout time, is a smart investment class. Throughout history, during a recession, the best managers are companies that do well during volatile times. Through evergreen investing, DLP is able to give their investors liquidity to get out when they are ready to leave. Through liquidity, risk is mitigated.
[29:20]
Dream, Live, Prosper is the foundation of DLP Capital. To this end, DLP has expanded the business to find success in all the areas of your life. DLP has defined this mindset through Living Fully and learning how to integrate the work-life balance in all areas of their life. In solving this problem, DLP formed the Prosperity, Family, Wealth and Legacy Membership, where they provide education, training, and resources for their investors. 
Want to learn more?
DLP Capital >> CLICK HERE
Email >> [email protected]
Are you ready to start your journey by creating passive income through real estate? Then click below to the waitlist for our next class season. We will take you from zero to confident. There is no obligation to join our waitlist! See you on the inside!