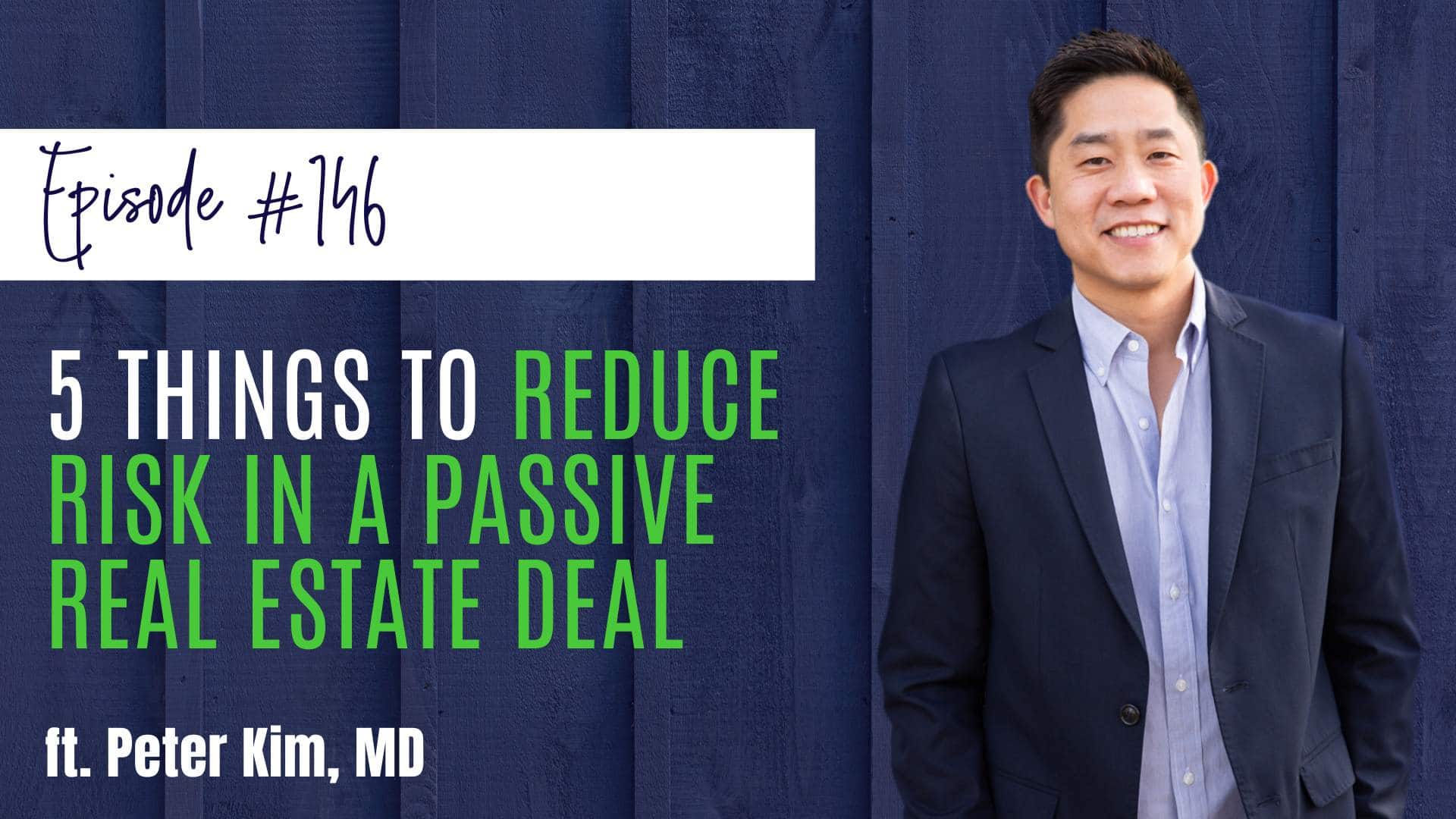 Episode #146
#146 5 Things To Reduce Risk In A Passive Real Estate Deal
Real estate investing involves risk. Any investment involves risk. 
That's why careful research and risk assessment are essential. It's impossible never to lose money, but you can reduce your risks with a few simple steps. 
In this episode, Dr. Peter Kim discusses the five things you can do before investing in passive real estate.

Did you know I have a newsletter dedicated to sharing active real estate opportunities? It's called the Real Estate Insider and doesn't cost anything to receive it. It is published once or twice a month, depending on if we see deals by reputable sponsors.
We already have thousands following along, so if you'd like access… make sure to CLICK HERE!
9 Min • February 13
Episode Highlights
Now, let's look at what we discussed in this episode:
Real estate investing involves risk

Get to know the sponsor

How is the deal financed

Know the market you are investing in

Consider environmental risk

Access your own real estate concentration risk
Here's a breakdown of how this episode unfolds.
Episode Breakdown
[00:52]
Investing Advice

Warren Buffett once said, "The first rule of an investment is don't lose money. And the second rule of an investment is don't forget the first rule. And that's all the rules there are."
Real estate investing involves risk. Any investment involves risk. It's essential to identify the risk through research and due diligence so you can take steps to mitigate those risk.
[02:59]
1. Get To Know The Sponsor
Ask the right questions before you invest. Answer the following questions by researching the sponsor's track record:
How many deals have they done?

How many deals have they exited?

How many years have they been putting deals together?

What were their best and worst deals?

Do they have a cash position in the deal? 

How are they compensated for their involvement in the deal?

What's their involvement in the day-to-day operations of the property?

What's their risk-mitigation strategy?

Consider the market today… what are you doing differently?
[06:39]
2. How Is The Deal Financed
Understand how the deal is being financed. However, it's good to know the type of loan and whether it's interest-only or if it will be amortized over a decade or two. Another metric to know is whether the loan to cost (LTC) or loan to value (LTV) ratio is being used. Finally, you need to know what will happen with the loan payments if the loan is called by the lender or reaches the end of its term.
[7:15]
3. Know The Market You Are Investing In
As you're considering a deal, consider the market in which it's located. Is the population growing or moving away? Is there a significant industry that supplies stable long-term jobs for residents?
[10:12]
4. Consider Environmental Risk
Unfortunately, there's not much you can do to prevent Mother Nature from sending her weather-related disasters. You can, however, choose which ones you're willing to take a risk on
[11:11]
5. Access Your Own Real Estate Concentration Risk
Finally, before you invest in a passive real estate deal, you need to consider your real estate holdings. You don't want all of your investment dollars tied up in a series of apartment complexes in Ohio or a portfolio of trailer parks. It's like how your grandmother used to say, "Don't keep all your eggs in one basket." 
Portfolio Diversification is key to mitigate risk.
This episode is brought to you by Set for Life Insurance.
They are a nationally recognized independent insurance brokerage specializing in life and disability insurance for physicians and high income professionals. 
Because of the volume and exceptional reputation of Set for Life Insurance and the relationships they have developed with companies over the years, Set for Life clients have access to special services not available elsewhere in the industry. 
This includes special discounts, priority underwriting handling and, on some occasions, exceptions in the underwriting process. 
For more information, contact Set for Life Insurance today!

We talk in depth about all of this and more in our course–Passive Real Estate Academy. Want to learn everything about investing in real estate with confidence? You can grab your seat right here!