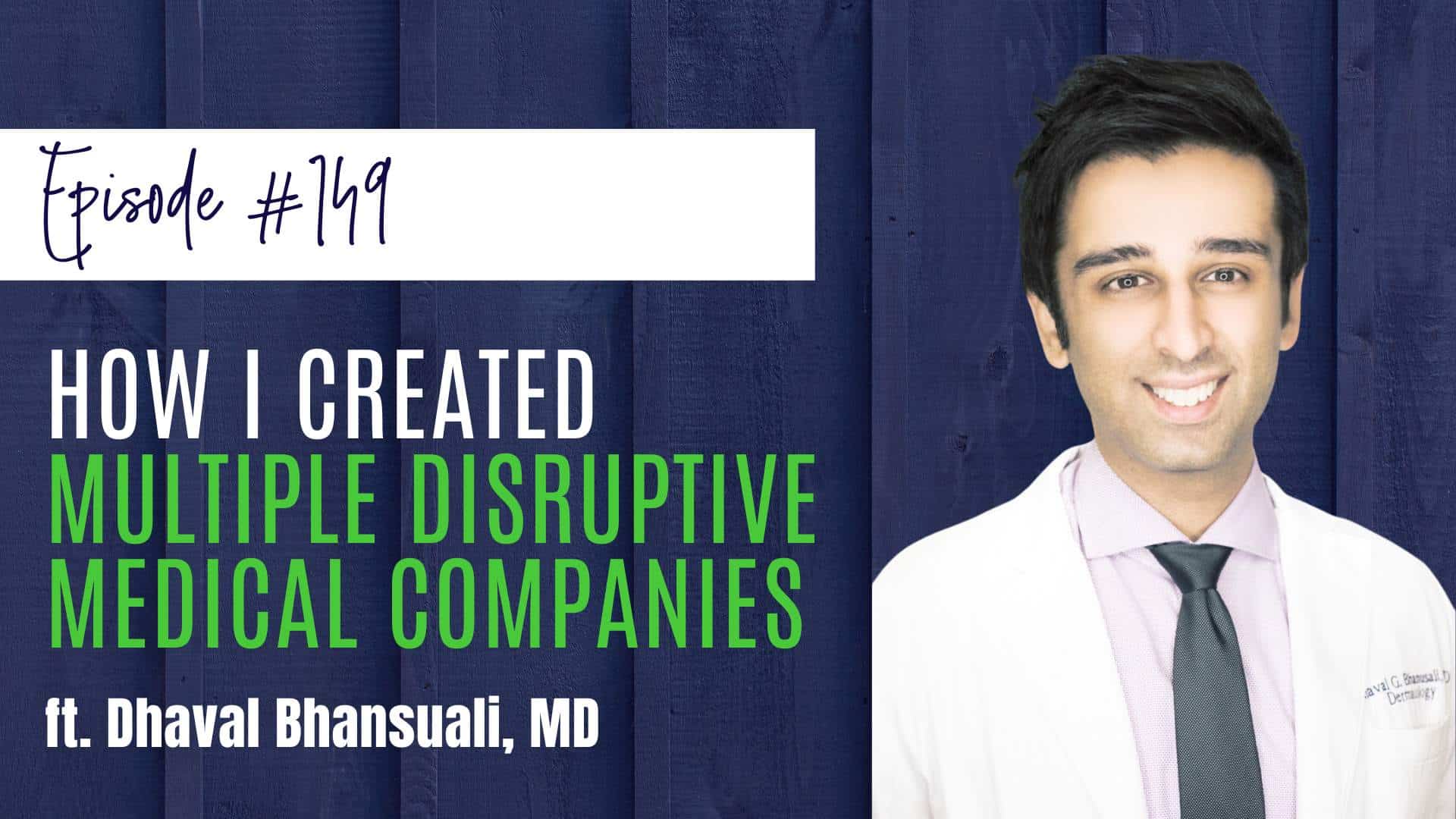 Episode #149
#149 How I Created Multiple Disruptive Medical Companies, ft. Dr. Dhaval Bhansuali
We are getting ready for the launch of our Leverage & Growth Summit, March 15-19th, where Dr. Kim interviews 35+ physician entrepreneurs and hear their stories of how they created their ideal lives using the skills they already attained as physicians. 
So, we thought this would be an excellent time to share one of my all-time favorite Leverage & Growth interviews with the physician entrepreneur, Dr. Dhaval Bhanusali… 
Dr. Bhanusali is a board-certified Dermatologist based in NYC. Outside of his practice, he's built numerous health tech companies like Skin Medicinals, HairStim Labs, and AIRE Health (a platform used to lower office supply prices for Dermatologists and patients). His skincare projects include Amazon's first skincare line, Fast Beauty Co. He has also worked with Martha Stewart to develop 86 Elm. Along with other collaborations.
Learn more about Dr. Dhaval Bhanusali by going to www.bhanusalimd.com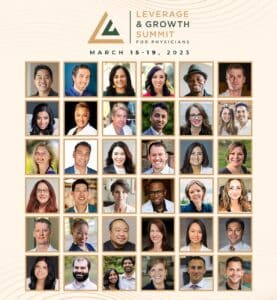 Are you ready to model successful people and start growing your income streams? Learn more about the free LEVERAGE & GROWTH SUMMIT. 
Plan now to join us for our free virtual summit, March 15-19, 2023
28 Min • March 6
Episode Highlights
Now, let's look at what we discussed in this episode:
Venturing out from physician to entrepreneur

Growing from one business to several

The common insecurities of entrepreneurs

The potential in physicians to become entrepreneurs

What does it take to become an advisor for pharmaceutical companies

Why doctors should step into entrepreneurship
Here's a breakdown of how this episode unfolds.
Episode Breakdown
[02:12]
How did you venture out from physician to entrepreneur?

Doctors are equipped to solve problems. Learn by researching other successful companies. Hire your business management and stay focused on building things. The most challenging part of entrepreneurship for doctors is that In medicine, everything has to be perfect from day one, although with entrepreneurship you just have to jump and you figure things out on your way down.

"I don't just think about the patience in my room, but beyond my four walls." – Dr. Bhanusali
[09:49]
What was the first business that you started?
In med school Dhaval started out in a lab and began reading about business growth. Then he partnered with others in a hybrid tech company and learned how to build other people's projects. He saw that the people who succeeded are the ones who were committed, adjusting as they went along, ability to receive criticism, and evolving their business ideas. 
"SMS was able to grow because it is an honest, simple answer to a common problem amongst dermatologists." – Dr. Bhanusali
[12:25]
What did it take to get past the fear and anxiety to pursue entrepreneurship?Dr. Bhanusali mentions the need to get past your own insecurity of operating without a planned road map, unlike becoming a doctor. Entrepreneurship is also lonely, receiving criticism from colleagues. Doing good and doing the right thing is always the best choice. "Good noise always outweighs the bad noise." Getting past the insecurities, and decide to JUMP.
[15:01]
What is the potential for physicians to become entrepreneurs? 
Connect and reach out to others through emails. Join and become advisors in companies. Choose the right money, the right partners and become an ethical voice in medicine. Don't worry about the money, experience is more valuable than money, and in time it will come. Find ways to educate yourself and join communities.
[17:27]
What does it entail to be an advisor?
Offer free services to pharma industries to establish your voice. Exchange equity instead of money in developing companies. Not chasing every bottom dollar, but still receiving something for your time.
[19:39]
Why is it important for doctors to become entrepreneurs?
There is a need for doctors to be part of the evolving changes that are taking place in medicine. Physicians need to push to be advocates for patience. How you succeed is how much you want things. If you can't fail, you won't fail. 
Entrepreneurial Tip 1: To find balance in your work… overpay good help. So you can lead, build an atmosphere, and establish a vision for the company. 
Entrepreneurial Tip 2: Take time to do what makes you happy in your life and career. Nurture big ideas in those around you. Success is living your day everyday on your terms. 
Entrepreneurial Tip 3: "There are a billion reasons not to do something, so just JUMP! You are more equipped than you realize."– Dr. Bhanusali
Learn more about Dr. Dhaval Bhanusali by going to www.bhanusalimd.com
Limitless bring this episode to you.
Dr. Vikra Raya is offering a free gift to the listeners of Passive Income MD Podcast. 
Go to VikramRaya.com/gift and get the free "The Limitless Physician's Guide to Building Wealth" ebook today. In this book, Dr. Raya will give you… A 7-step plan to help you achieve ultimate vitality in all areas of your life.
For this free resource, go to… VikramRaya.com/gift
Are you ready to model successful people and start growing your income streams? Learn more about the free
LEVERAGE & GROWTH SUMMIT
.