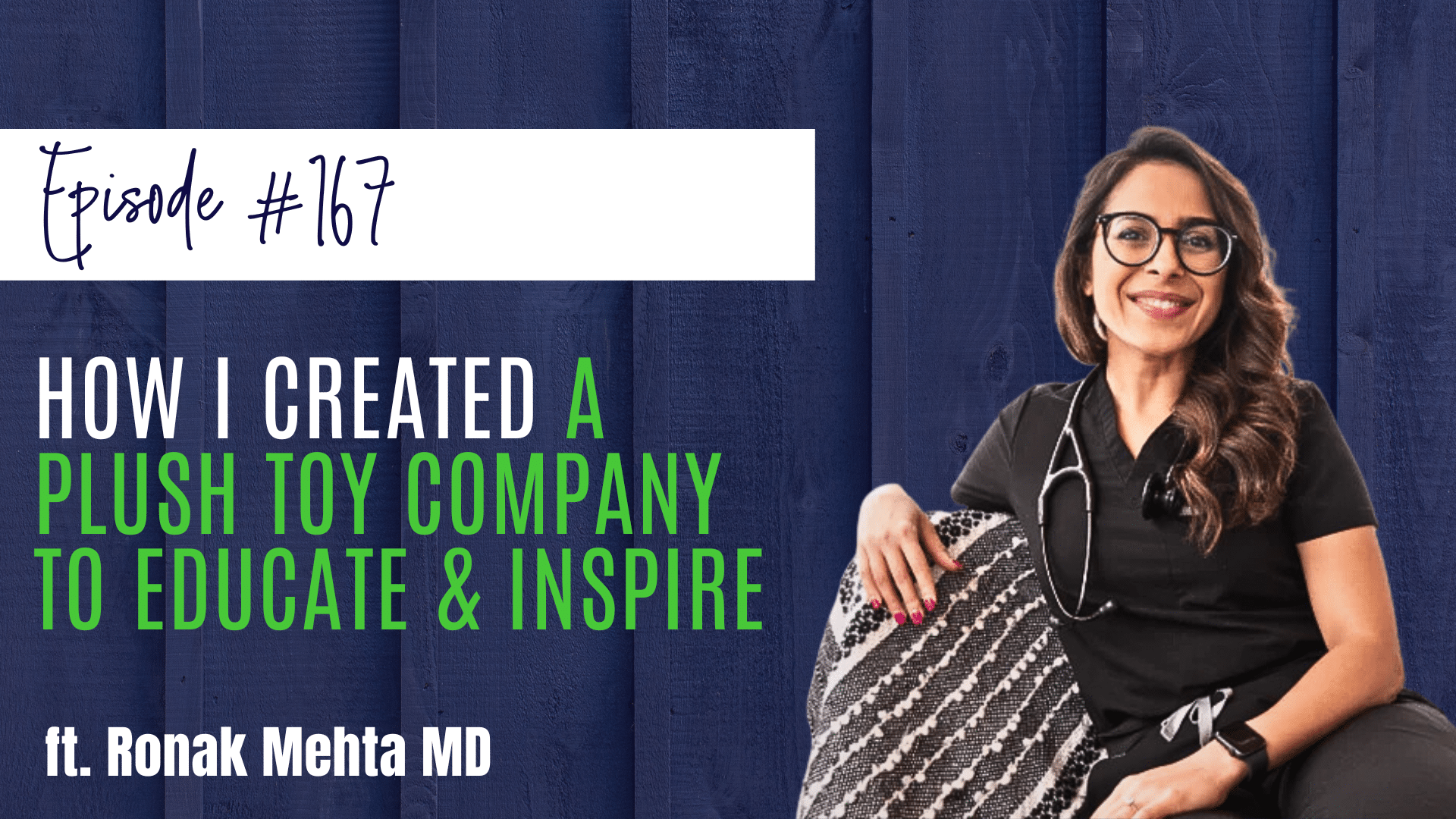 Episode #167
#167 How I Created a Plush Toy Company to Educate & Inspire, ft. Ronak Mehta MD
In this episode, Dr. Peter Kim interviews the brains behind Nerdbugs, Dr. Ronak Mehta. They discuss how she started a health education company as a physician and how her adorable plushies aim to start conversations about medical and mental health.
Are you looking for a community to encourage you as you begin, or want to accelerate your business to the next level? Then join thousands of physicians who share the same journey of creating their ideal lives through multiple streams of income by joining us in our Facebook communities such as Passive Income Docs and Passive Income MD.
DLP Capital brings this episode to you…

DLP Capital is a private real estate investment and financial services company focused on marketing and IMPACT by acquiring, developing, and building relationships, housing, leaders, and organizations. 
As a high-growth IMPACT investor, they focus on leveraging capital with real estate-backed investments to build wealth and prosperity for all our members, investors, clients, and partners. Through the Elite Execution System and the company's exclusive membership platforms focused on business scaling, investment housing, family, and wealth… DLP Capital impacts lives by empowering its clients to choose, create, grow and preserve prosperity.

29.45 Min • July 10
Episode Highlights
Now, let's look at what we discussed in this episode:
Nerdbugs, plush toys for health and wellness

Life as a practicing physician and entrepreneur

Launching a business 

Entrepreneurial challenges

Tips for physician-entrepreneurs

Physician Real Estate & Entrepreneurship Conference (PIMDCON)
Here's a breakdown of how this episode unfolds.
Episode Breakdown
[01:51]
Nerdbugs, plush toys for health and wellness
Peter asks Dr. Ronak to tell her story of Nerdbugs. She shares the purpose behind the plush toys. Mehta also goes into detail describing the passion and creativity that urged her toward becoming a physician entrepreneur.
"[Nerdbugs] plush toys are used to help educate around health, wellness, and raise awareness about different kinds of medical conditions and with the hopes of ultimately creating a healthier world."  — Dr. Ronak Mehta
[03:12]
Life as a practicing physician and entrepreneur
Dr. Kim questions Dr. Mehta whether it was her plan initially to start a business while having a medical career. She talks about what inspires her and how she made use of her skills to venture a passion outside of medicine. 
"It was really neat to create something that was uniquely my own and, and have that avenue to be creative outside of just going into work every day. "  — Dr. Ronak Mehta
[10:03]
Launching a business
Peter asks how she managed starting a business while working as a physician. He furthers the discussion by asking what steps she took in making her plush toy company a reality.
"Once you make the decision and commit to it, and commit to yourself, I think that that truly is the biggest piece of it"  — Dr. Ronak Mehta
[22:14]
Entrepreneurial Challenges 
Dr. Peter Kim asks Dr. Mehta to recall what her biggest challenges were in being a physician entrepreneur and what advice she would leave for others.
"I would really encourage people to start before you're ready, and then work on yourself throughout the process."  — Dr. Ronak Mehta
[26:40]
Tips for physician-entrepreneurs
Dr. Peter asked Dr. Bright what does his life look like now,  where's it going, and where would he be in the next five years or so. Dr. Aaron answers by talking more about his drive and mission in the coming years and how he plans to achieve them. 
"Now I built something that not only am I enjoying and I have a sense of control over my time, but I've sort of fine-tuned my role here to be the stuff that I'm pretty good at"  — Dr. Aaron Bright
[28:18]
Physician Real Estate & Entrepreneurship Conference (PIMDCON)
 Dr. Peter Kim closes by inviting everyone to join the Physician Real Estate & Entrepreneurship Conference (PIMDCON) this September 21 – 23, 2023 in Los Angeles, CA. The event is for those who want to learn more about real estate, investing, finances, passive income, entrepreneurship, and more. 
"You'll gain valuable insights and how to achieve financial freedom and walk away with actionable plans to help you achieve your goals. So don't miss out on this incredible opportunity to level up your financial future." — Dr. Peter Kim
We talk in depth about all of this and more in our course–
Passive Real Estate Academy
.
Want to learn everything about investing in real estate with confidence? You can grab your seat right
here!