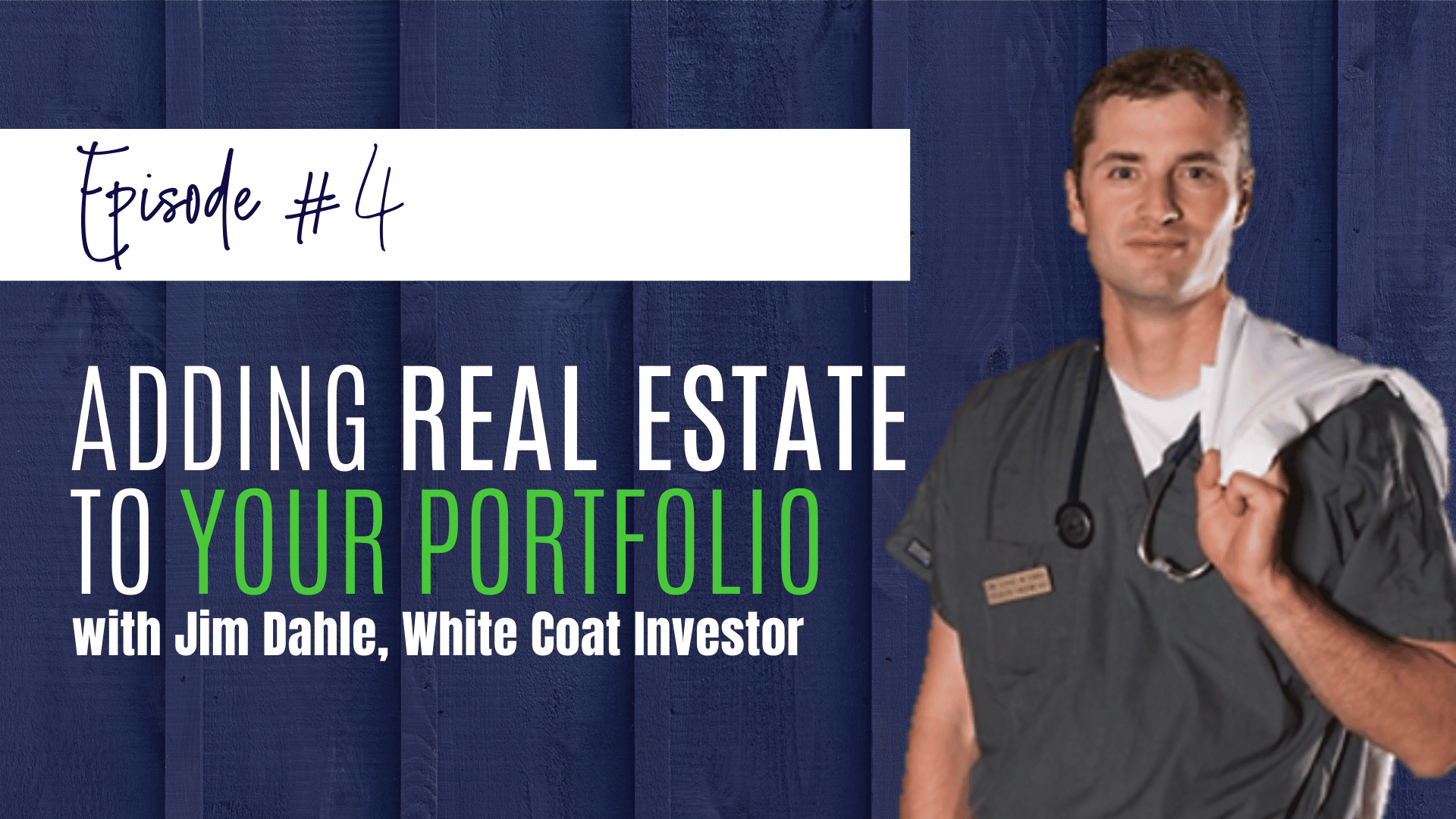 Episode #4
#4 Adding Real Estate To Your Portfolio, ft. Jim Dahle, White Coat Investor
For those who might not know who Jim Dahle is, you must have been sleeping under a rock! He is the White Coat Investor and has written several books, has a podcast, blog and Facebook groups. 
33 Min • February 24
Episode Highlights
For those who might not know who Jim Dahle is, you must have been sleeping under a rock! He is the White Coat Investor and has written several books, has a podcast, blog and Facebook groups. 
I'd like you to get to know him and how he got started. 
He started the White Coat Investor back in 2011. His goal was to help doctors get a fair shake on Wall Street. That was the passion behind it especially since it didn't make any money for years afterward. However, it eventually grew into a very successful business. 
He said there were a lot of challenges, such as learning the business and about entrepreneurship.
He still practices half time and sees patients just like other physicians. He talks to people who are having the worst day of their lives in the emergency department and reports that he finds it to be gratifying.
Personally, I enjoy working more now that I'm working half-time. It has made me a better and more compassionate physician than when I was working full time. 
I'm able to be more present at work. It's different when you can choose to work and it brings a different energy, which I hope my patients can see.
Jim Dahle is also a huge fan of halftime work. He thinks everybody should try it. He has said that most doctors don't actually want to quit, they just want to come back to full time. 
Would you like to know how to add to your portfolio using real estate to achieve your dream life?
Let's look at five points that Jim Dahle makes:
Jim went to half-time so that he could keep t

he White Coat Investor

running. It wasn't necessarily that he wanted to work less. 

He said he couldn't do two full-time jobs anymore. He went to three-quarter time a few years ago and about a year and a half ago he went to halftime. 

He states he has the generalist website and the generalist podcast, meaning he talks about

a

ll

things financial.

Investors either come from a mutual fund / stock / publicly-traded investment side or they tend to come from a small business real estate side. When you become a well-rounded investor, you learn about both sides. 
Episode Breakdown
[0:43]
Jim tells me that building The White Coat Investor has been fun tinkering with entrepreneurship and business. It was also fun helping doctors and high-income professionals. 
[05:14]
We talk about the types of information that Jim covers on his website: budgeting, student loan management, mutual fund investing, real estate investing, and asset protection are some examples.
[9:22]
Jim talks about peer to peer loans and hard money loans.
[13:48]
We talk about the spectrum of real estate.
[17:26]
Jim tells us how he does due diligence for his investments. He said there are a lot of different ways that you can do due diligence, but at the end of the day, you've got to sit down with the paperwork and go through it and say, Do I believe these numbers? Do I actually believe this fund is going to give me a 15%? Or an 18% return? Is this a reasonable thing they're proposing? 
[25:38]
When you're a direct real estate investor it's much easier to exchange it into another property and keep those tax benefits going.
And, if you haven't done so already, let me know what you thought of this episode in one of our Facebook groups: Passive Income Docs or Passive Income Professionals
Click here to listen!
Subscribe & Review in iTunes
Hey there – are you subscribed to my podcast? If you aren't, please show your support of the show by doing so now. I don't want you to miss a beat, so if you're not subscribed, there's a good chance you'll miss out on those. Click here to subscribe to iTunes!
If you're one of our super special followers, I would be really appreciative if you also left me a review over on iTunes. Those reviews help other people find my podcast. Why not spread the insight to help other physicians and professionals on their passive income journey? Just click here to review, select "Ratings and Reviews" and "Write a Review" and let me know why you enjoy the show so much. Thank you!
---
OTHER WAYS TO ENJOY THIS PODCAST:
Download a Transcript (coming soon!)  
Download on iTunes 
---