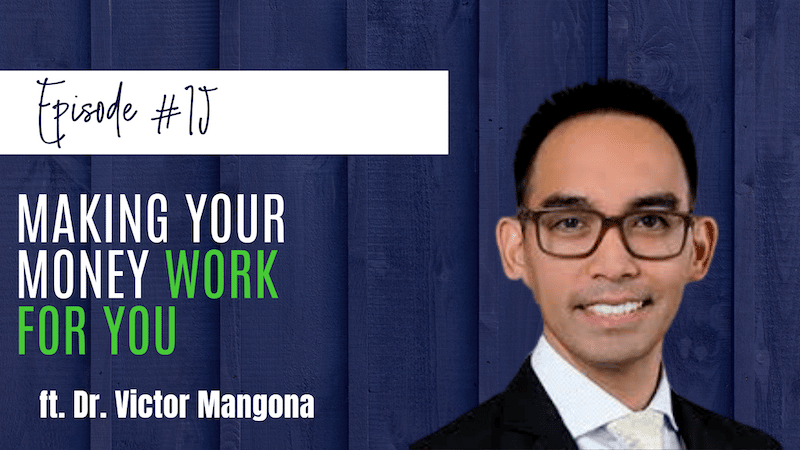 Episode #15
#15 Making Your Money Work For You, ft. Dr. Victor Mangona
What plans do you have for making your money work for you?
32 Min • May 3
Episode Highlights
What plans do you have for making your money work for you?
Victor Mangona, who is a radiation oncologist, was proactive when thinking about his future financial health. His journey began as a young child when his parents owned a couple of rental properties. He was right there watching the investment process and helping out on-site (he remembers cleaning properties on the weekends)!
He bought his first property in 2006, while he was still in medical school! You see, he had a financial plan for his future, which included earning income from the properties.
However, his true evolution started when he became aware that he wanted his money to work for him. That would mean developing multiple income streams for passive income. 
Why?
His goal was to become financially independent as fast as possible. Do you have a plan for making your money work for you? Today's guest may just inspire you in your quest for multiple income streams and financial independence. 
Now, let's look at five things you'll learn about making your money work for you!
We discuss the value of your time.

How Victor to partners and lends for flip projects. 

How to educate yourself in real estate investing.

Learning how to properly allocate your resources.

The process of investing with other people. 
Episode Breakdown
[05:53]
There's nothing academically challenging about it. It's about choosing to allocate the resources that you have available to you. So, besides things online, I listened to a ton of podcasts for a long time. And I have like a 40-minute commute on average each way. And just listening to podcasts. That's a great way to get a passive education. You get some value out of your commute. 
[07:40]
I had gone to another real estate meeting and people who were doing syndicated real estate in multifamily. So now, instead of buying individual properties, we buy very large apartment complexes, typical properties in the eight-figure range 10 upwards of $50 million per property. So this is 100 plus units. And when you're at that scale, you can have a couple of people be in charge of managing the operation. And you have the rest of the people simply investing capital. 
[09:32]
But like, how do you find these investments? And then what does it look like to invest in it? Like, what kind of numbers are we talking about? You know, what kind of terms and then what are ultimately some of the benefits? 
[14:18]
So let's say you have a busy physician, they're in a decent to high paying specialty. Like how many deals or how long will it take do you think if their goal is to replace their physician income?
[15:17]
So having that high income can get in the way, especially if you learn to spend it all on the front end, the best thing to do is to learn to separate yourself, your spending, from how much you earned, they should have nothing to do with each other. So as your income goes up, your spending doesn't change. my paycheck does not go into our checking account. That's almost the equivalent of putting cash into your wallet. That money is gone, right? 
If you liked this episode, here's another you'd love, too!
Adding Real Estate To Your Portfolio with Jim Dahle, White Coat Investor
Subscribe & Review in iTunes
Hey there – are you subscribed to my podcast? If you aren't, please show your support of the show by doing so now. I don't want you to miss a beat, so if you're not subscribed, there's a good chance you'll miss out on those. Click here to subscribe to iTunes!
If you're one of our super special followers, I would be really appreciative if you also left me a review over on iTunes. Those reviews help other people find my podcast. Why not spread the insight to help other physicians and professionals on their passive income journey? Just click here to review, select "Ratings and Reviews" and "Write a Review" and let me know why you enjoy the show so much. Thank you!
OTHER WAYS TO ENJOY THIS POST:
 Download a Transcript (coming soon!)  
Download on iTunes