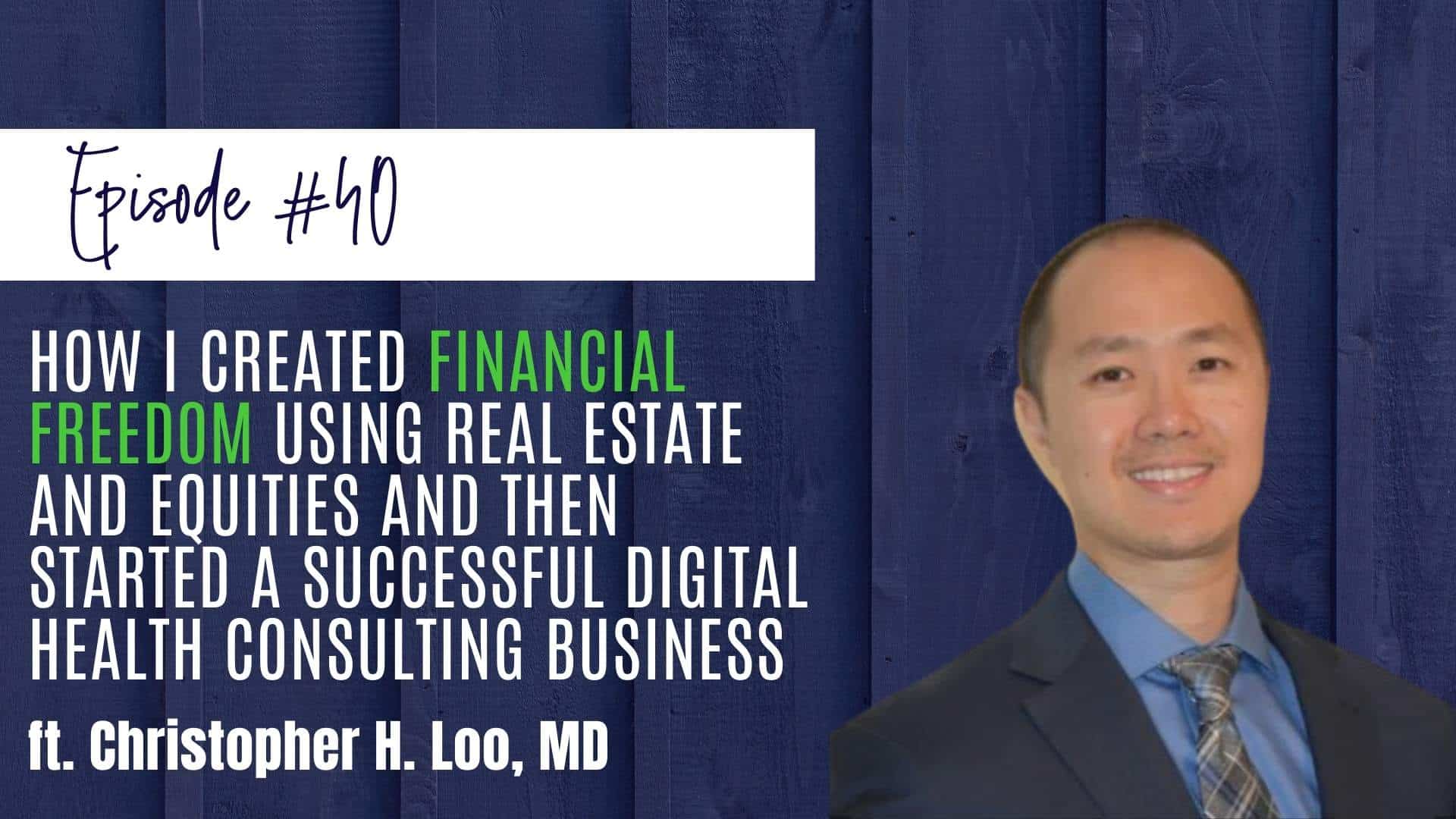 Episode #40
#40 How I Created Financial Freedom Using Real Estate and Equities and Then Started a Successful Digital Health Consulting Business, ft. Christopher H. Loo
Christopher H. Loo, MD-PhD is a physician entrepreneur, investor, keynote speaker, and health care digital technology advisor.
24 Min • January 4
Episode Highlights
Christopher H. Loo, MD-PhD is a physician entrepreneur, investor, keynote speaker, and health care digital technology advisor. A native Houstonian, he received a full scholarship from the Terry Foundation. He received his MD-PhD from the joint Baylor College of Medicine and Rice University Department of Bioengineering. He subsequently matched into an orthopedic surgery residency at Rutgers University in 2007 before embarking on a full-time career as an entrepreneur achieving F.I.R.E. in his mid-thirties using real estate, equities, and options.
He is the author of 4 Amazon bestsellers, including "How I Quit My Lucrative Medical Career and Achieved Financial Freedom Using Real Estate", and the founder of the growing private Facebook group – Financial Freedom for Physicians. He regularly speaks about financial freedom and strategies for establishing multiple passive income streams during these unprecedented times.
Now, let's look at four things that we discussed in this episode:
Christopher's journey
How he generated income as a medical student
His tips to grow brand awareness
Tips for starting your own business
Episode Breakdown
[9:25]
During that time, consulting was actually on the top of my mind because you have a lot flexibility and a lot of my friends were consultants so they were travelling all the time, it sounded really exciting, they were getting paid very well and also they were able to build their own brand and unique credibility.
[19:16]
If you are looking to transition from clinical to non-clinical, now is the perfect time. As we've seen with COVID-19, the idea of job stability no longer exists.
And, if you haven't done so already, let me know what you thought of this episode in one of our Facebook groups: Passive Income Docs or Passive Income Professionals
Subscribe & Review in iTunes
Hey there – are you subscribed to my podcast? If you aren't, please show your support of the show by doing so now. I don't want you to miss a beat, so if you're not subscribed, there's a good chance you'll miss out on those. Click here to subscribe to iTunes!
If you're one of our super special followers, I would be really appreciative if you also left me a review over on iTunes. Those reviews help other people find my podcast. Why not spread the insight to help other physicians and professionals on their passive income journey? Just click here to review, select "Ratings and Reviews" and "Write a Review" and let me know why you enjoy the show so much. Thank you!
OTHER WAYS TO ENJOY THIS POST:
Download a Transcript (coming soon!)  
Download on iTunes 
Join the Passive Income Docs Facebook Group
Join the Passive Income Professionals Facebook Group