#53: One Anesthesiologist's Journey to FIRE: Interview With Physician on Fire
May 4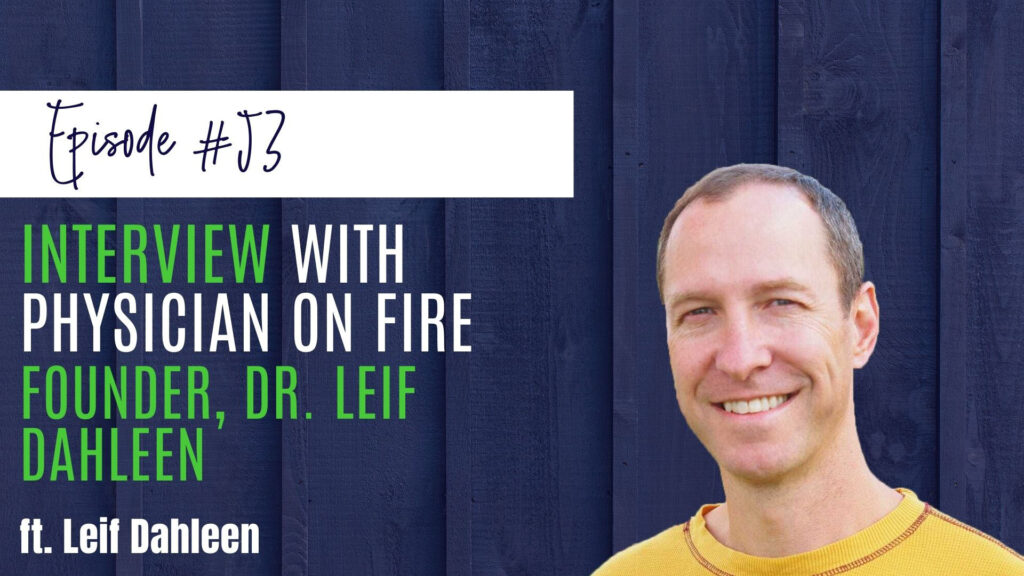 For this episode, we are joined by the Author, Founder, and CEO of the blog Physician of Fire, Dr. Leif Dahleen. Throughout this episode, we will dive into what Physician on Fire teaches its readers as well as what FIRE is.
We will also discuss how and why Dr. Dahleen left his career as a successful anesthesiologist to create the lifestyle he's always wanted and the biggest challenges he's faced on his FIRE journey.
Now, let's look at what we discussed in this episode:
Why Dr. Dahleen pursued FIRE and what that lifestyle looked like for him and his family

Why he left a successful career as an Anesthesiologist

How he prioritizes family, travel, and his blog, Physician on Fire

What his life is like now that he and his family are financially independent
Here's a breakdown of how this episode unfolds…
[3:15]
How Dr. Dahleen discovered the FIRE movement and created Physician on Fire
[6:22]
Why Dr. Dahleen left his career as a successful Anesthesiologist
[11:00]
Why Dr. Dahleen made such a huge lifestyle change in order to travel and create the type of lifestyle he had always wanted
[14:30]
Why Dr. Dahleen chose to create a blog versus any other medium to share financial advice, resources, and information
[21:40]
What Dr. Dahleen wishes he had known before achieving FIRE
Subscribe & Review in iTunes
Hey there – are you subscribed to my podcast? If you aren't, please show your support of the show by doing so now. I don't want you to miss a beat, so if you're not subscribed, there's a good chance you'll miss out on those. Click here to subscribe to iTunes!
If you're one of our super special listeners, I would be really appreciative if you also left me a review over on iTunes. Those reviews help other people find my podcast. Why not spread the insight to help other physicians and professionals on their passive income journey? Just click here to review, select "Ratings and Reviews" and "Write a Review" and let me know why you enjoy the show so much. Thank you!
OTHER WAYS TO ENJOY THIS POST:
Download a Transcript (coming soon!)
Download on iTunes
Join the Passive Income Docs Facebook Group
Join the Passive Income Professionals Facebook Group