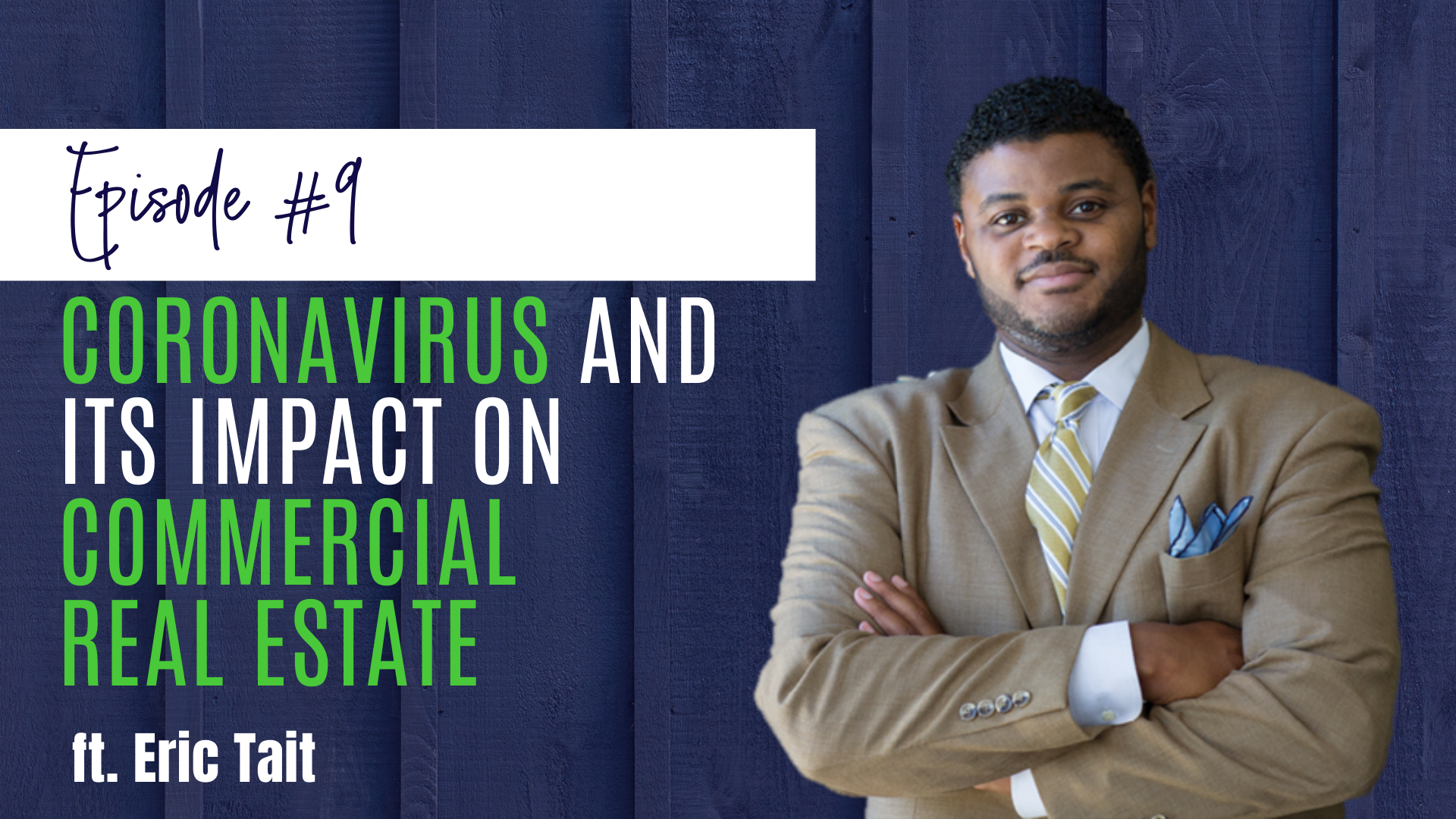 Episode #9
#9 Coronavirus and Its Impact on Commercial Real Estate, ft. Dr. Eric Tait
Did you know that you'll take a larger hit on your assets if you try to sell them during the economic downturn during the pandemic?
23 Min • March 30
Episode Highlights
Did you know that you'll take a larger hit on your assets if you try to sell them during the economic downturn during the pandemic?
The pandemic is causing real estate investors a lot of concern.
Municipalities have put a moratorium on evictions, so if you're an owner, you can't evict your tenants whether they pay or not. While that could complicate matters for real estate owners, Fannie Mae and Freddie Mac may start working with owners on payment forbearance and deferments.  The Federal Reserve is also figuring out how to get lending down for commercial mortgages.
My guest states that while it may be a bumpy ride in the short term, he's optimistic for long-term outcomes of the economy which ultimately affects commercial real estate.
The question is are we better prepared than we were in 2008, to handle something like this? It turns out that our banking systems and real estate system are in a better position for our current crisis.
Now, let's look at five things that we discussed in this episode:
We talk about the temporary demand shock and demand function.
How do massive price drops, and massive valuation reductions on the real estate side play out?
We answer the question: Are we better prepared than we were back in 2008 to handle something like this because of what happened back then?
We discuss liquidity and the temporary ability to pay for mortgages.
We look at buying assets below the replacement cost value.
Episode Breakdown
[00:09]
Well, we're actually in the beginning stages of Covid. Right? And so, from the standpoint of those of us who are real estate investors, passive real estate investors, it's very much a situation of wait and see.
[04:17]
We've never seen an income shock for the whole world in our lifetimes. It might be some people who were around with the Spanish flu, for the Great Depression, but like literally everyone is at home and they're at home. Not because like World War One or two that destroyed like manufacturing capacity and was a big shock to infrastructure. 
[05:59]
So not only do I own my own properties, but I also invest in other people's deals. Is this something that I should be really concerned about right now in terms of some of the deals that I've invested in with these other professionals? 
[06:20]
So if we're talking about the single-family side of our portfolio, I've had one tenant who's been laid off sent me the letter will be contacting the bank probably in the next week or two, to let them know, Hey, we need a forbearance on this. What is the process look like? 
[09:26]
So we were paying and distribution at a certain rate, that ain't gonna continue to happen at this point, right. But in terms of the value of the asset, the thing you have to look back at and see is did you buy the asset at below the replacement cost value? Did your general partners do that? If they did? 
[11:49]
All right, but let me clarify on the bank side. So when I'm talking about the banks, I'm talking about their lending capacity. What I will not talk about necessarily is their internal functioning capacity outside of their own lending book. And what I mean by that is there are some banks that are on the brink from a liquidity standpoint, that has nothing to do with the lending side of things per se.
[13:09]
Yes, we're going to be very aggressive on the back end of this because what this always does is it shakes out weak operators or weak deals.
And, if you haven't done so already, let me know what you thought of this episode in one of our Facebook groups: Passive Income Docs or Passive Income Professionals
Subscribe & Review in iTunes
Hey there – are you subscribed to my podcast? If you aren't, please show your support of the show by doing so now. I don't want you to miss a beat, so if you're not subscribed, there's a good chance you'll miss out on those. Click here to subscribe to iTunes!
If you're one of our super special followers, I would be really appreciative if you also left me a review over on iTunes. Those reviews help other people find my podcast. Why not spread the insight to help other physicians and professionals on their passive income journey? Just click here to review, select "Ratings and Reviews" and "Write a Review" and let me know why you enjoy the show so much. Thank you!
OTHER WAYS TO ENJOY THIS POST:
 Download a Transcript (coming soon!)  
Download on iTunes 
Join the Passive Income Docs Facebook Group