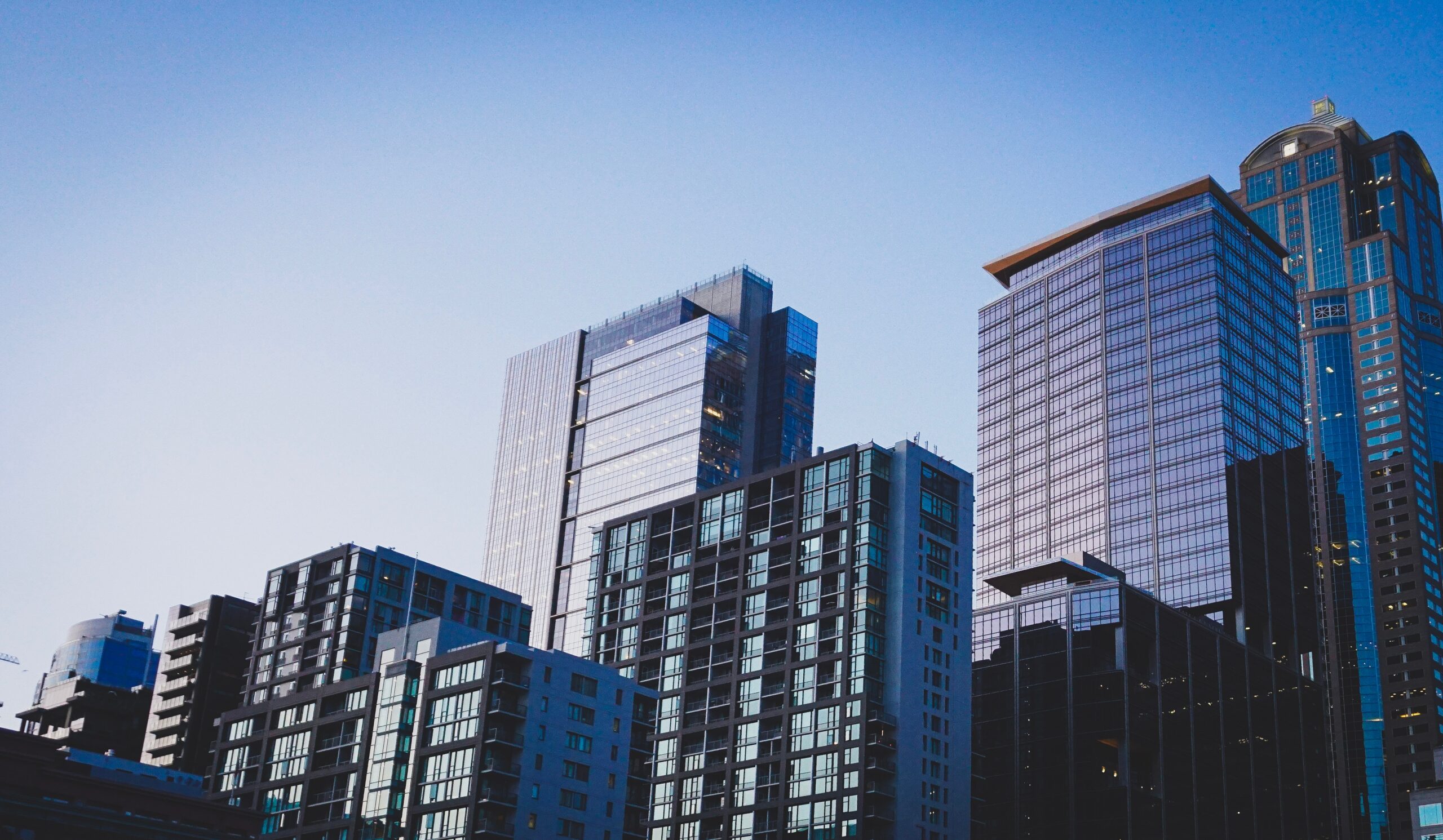 Real Estate Investors Share Their Insights on 2021
April 7, 2021 • 5 Min Read
Editor: This is a post by CrowdStreet, a partner of this site. Enjoy!
2020 was a year filled with uncertainty–and that's putting it mildly. Of course, many different industries were deeply affected by the pandemic, and the stock market was no exception.
After all the volatility we saw last year, many investors are (understandably) wary of the future, while others are optimistic.
Recently, investing platform CrowdStreet wanted to know just what individual investors were thinking about the road ahead–particularly in how they were approaching the future of real estate investing.
CrowdStreet created a poll and received over 1,200 responses. That's a very high number. In fact, it's likely the largest survey of individual real estate investors ever conducted.
What were they looking to find out? Well, CrowdStreet's survey was designed to gain insight into:
Their appetite for real estate investments in 2021

Which asset classes, risk profiles, and regions they're most interested in

How they're evaluating future real estate investment opportunities
After compiling the responses, here's what they discovered:
A whopping 96% of respondents told CrowdStreet they plan on making at least one commercial real estate (CRE) investment this year. Almost 30% are aiming to make four or more new investments.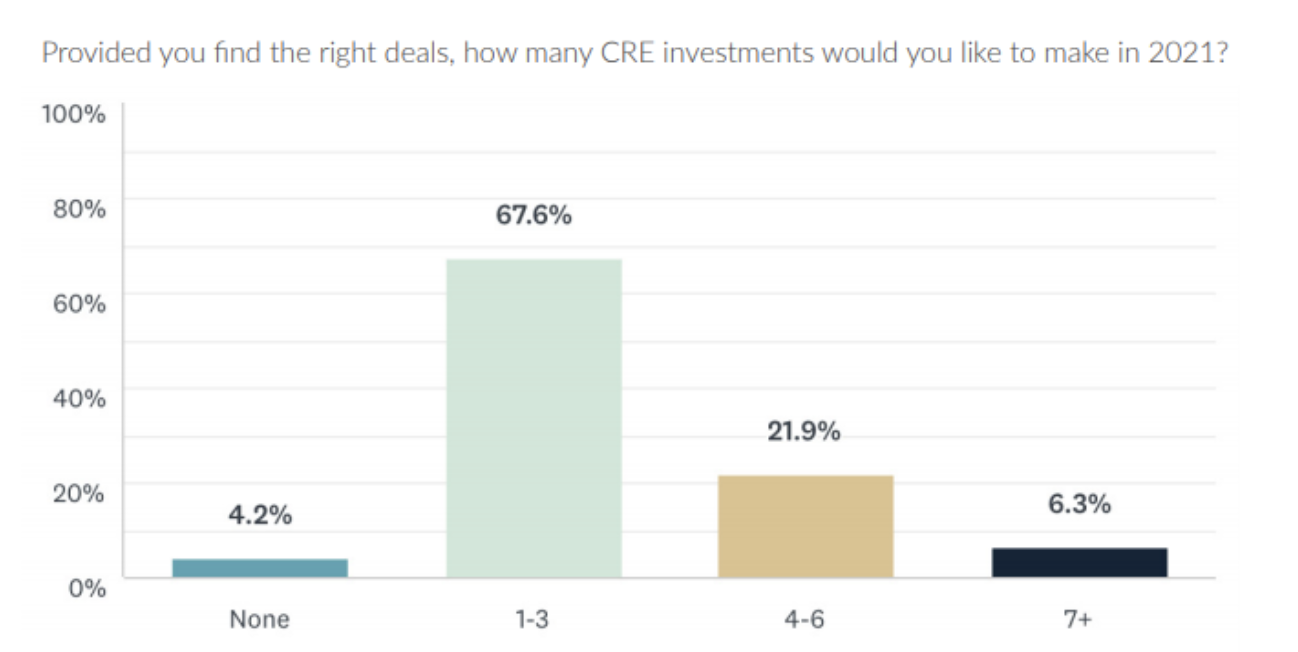 One investor told CrowdStreet, "We were conservative in 2020 due to the pandemic, but hoping to be more aggressive in 2021 as we come out the other side and get a better understanding of where the markets are."
This was especially true for investors who have never made a commercial real estate investment before. I was a little bit surprised to learn that 95% of new investors intend to make their first CRE investment in 2021.
Not surprising, though, is that investors' reasons for choosing commercial real estate was multifaceted, and they had a high level of interest in taking advantage of all the benefits of investing in CRE.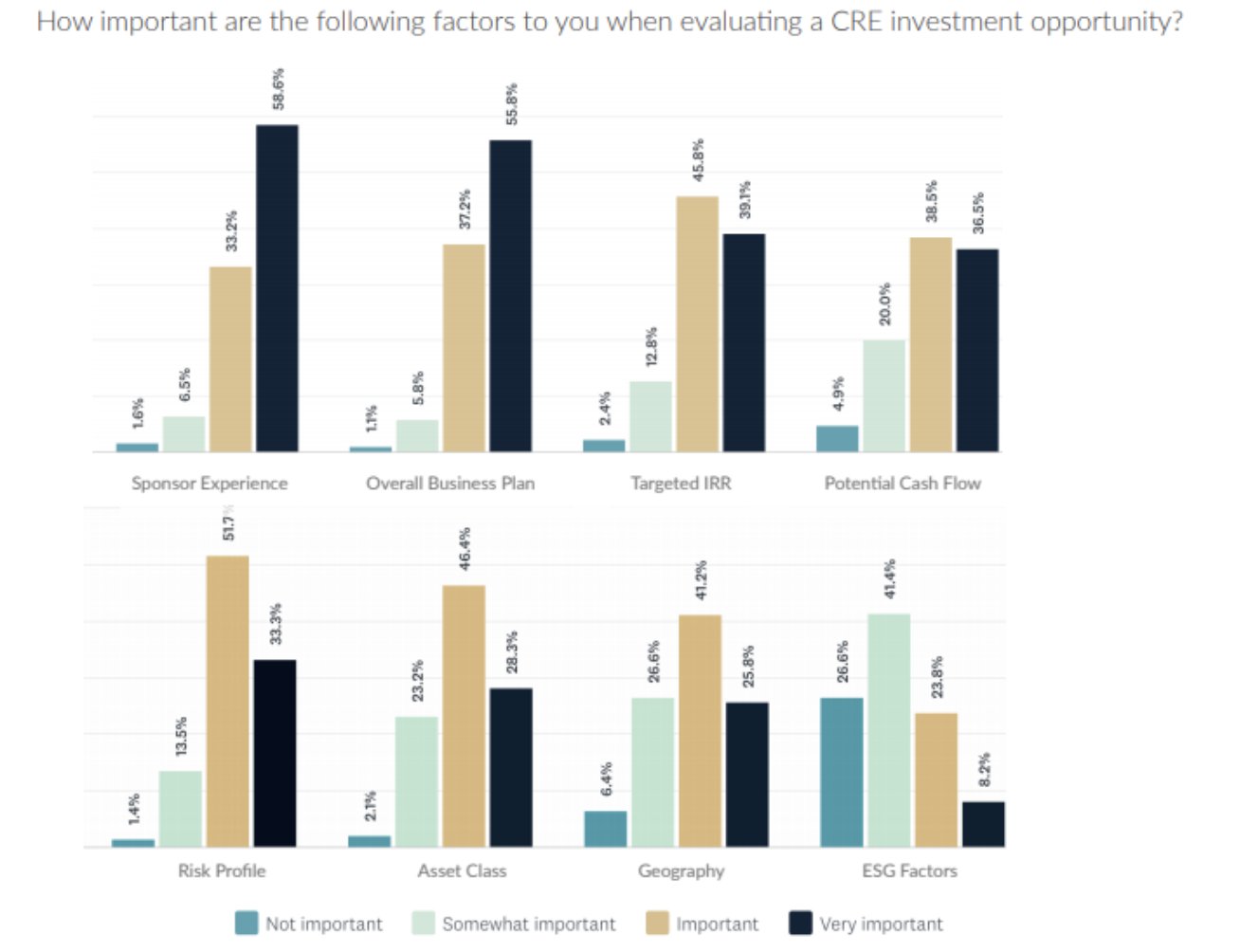 Interestingly, investors told CrowdStreet that rather than simply targeting a high internal rate of return (IRR), they value working with experienced sponsors who have a well thought-out business plan and a strong track record of success.
After the 2020 roller coaster, it seems like investors are valuing sponsors who have experienced several economic cycles and successfully weathered the ups and downs more than other factors. In other words, investors want a sponsor who's been around the block, so to speak.
That makes sense, because when it comes to CRE, the firm behind the deal is the one responsible for seeing an investor's capital through the ups and downs of a recession. Investors want to know they can trust the folks they're giving their investment to. As one investor told CrowdStreet, "I like value-add with the right business plan and the team to see it through."
When it comes to where investors hoped to purchase properties, the Southeast was the clear region winner–beating the Midwest and Mountain Region by 13%. This mostly holds with pre-existing trends, with the pandemic-related migration boom in cities like Boise likely giving the Mountain Region an extra boost.
It's no coincidence that CrowdStreet's list for Best Places to Invest in 2021 includes numerous cities across the Southeast, including Nashville, Atlanta, Dallas-Fort Worth, and Tampa–and it seems that institutional investors agree.
Invitation Homes and Rockpoint Group formed a joint venture to acquire and operate single-family rentals in the Western US, Southeast US, Florida, and Texas. Meanwhile, RangeWater launched an $800 million platform to build and operate single-family rental communities (what CrowdStreet calls Build-to-Rent) in the Sunbelt region.
The effects of the pandemic also really showed in investors' opinions on asset class, with multifamily and industrial topping the most-favored list, and a whopping 75% of respondents showing no interest in retail.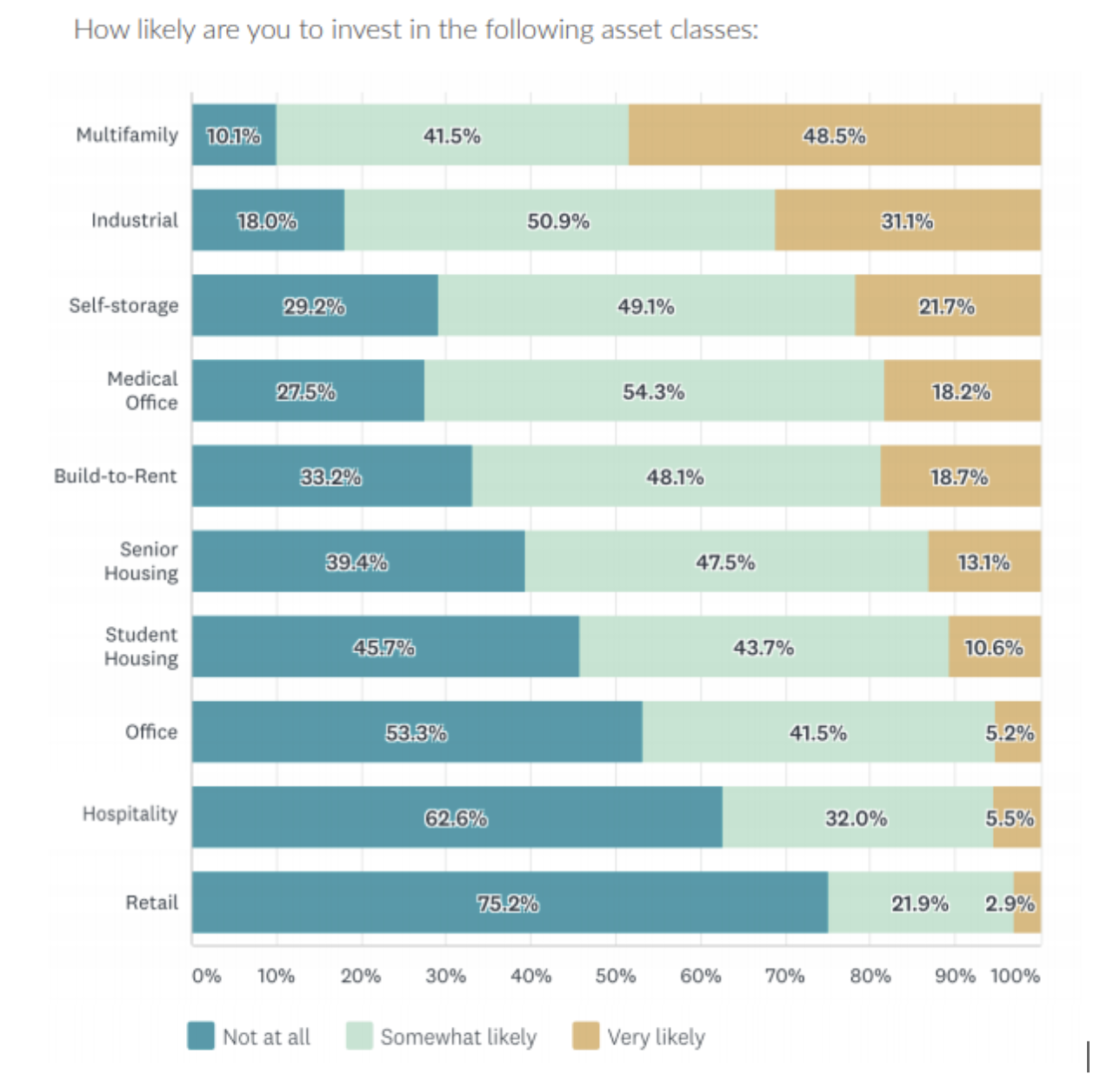 Overall, individual investors are optimistic. Across the board, investors value real estate's many diverse benefits, and are using this asset class, in particular, to spread out the risk in their portfolios and to protect their capital.
And rather than focusing solely on earning large returns, they're interested in the stability provided by less risky opportunities. They're also looking to invest in regions and asset classes that were on the rise before March 2020 and will likely recover first, and want to work with the sponsors they can trust to get the job done.
Ultimately, I share the optimistic attitude of most of CrowdStreet's investors, and I'm glad to see that people are excited for the future.
2020 may have been rough, but in 2021, we can continue to grow, learn, and invest–no matter what your goals may be.
Are you ready to start your journey by creating passive income through real estate? Then click below to the waitlist for our next class season. We will take you from zero to confident. There is no obligation to join our waitlist! See you on the inside!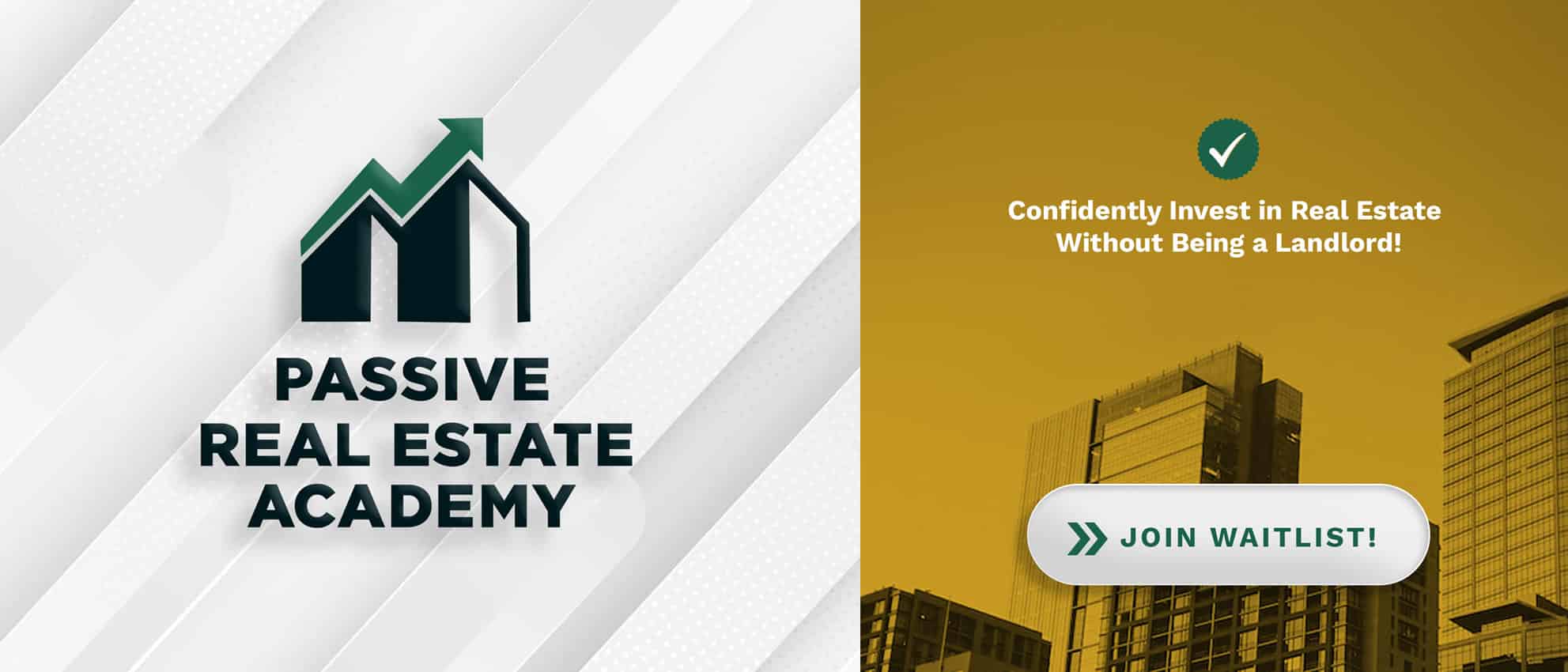 Disclaimer: The topic presented in this article is provided as general information and for educational purposes. It is not a substitute for professional advice. Accordingly, before taking action, consult with your team of professionals.