Variable rates: 1.74% – 7.49% APR
Fixed rates 1.99% – 7.84% APR
Splash Financial has focused on providing low rates to physicians from its beginnings. They offer 5, 7, 8, 10, 12, 15, 20 and 25 year terms and have no maximum loan amount. Fixed rates start at 3.48% APR making this one of the most competitive refi offers on the market. Find out more here.
Variable rates 1.98% – 7.14% APR
Fixed rates 2.49% – 7.04% APR
CommonBond offers flexible repayment terms. But what truly sets them apart is their social mission. For each loan they fund, they help fund the education of a child in need. Find out more…
Disclaimer: ​$500 to be credited to your PayPal account within 6 weeks of loan funding. Lending decisions are not impacted in any way by participation in this offer. Offer is nontransferable. No substitutions. Limit one offer per loan.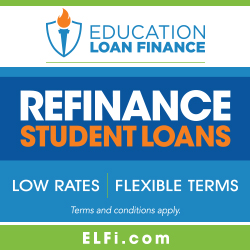 ELFI: $325 Reader Bonus
Variable rates 1.86% – 6.01%
Fixed rates 2.43% – 5.99%
Education Loan Finance is a great option for those with both federal and private loans. High income earners like physicians have the option to choose a shorter repayment term, however, there are also options for those looking to simply lower their monthly plan. If you have any questions along the way, they also provide Student Loan Advisors who can provide individual assistance throughout the refinancing process. It's also worth mentioning that as of April 18, 2018, ELFI is the first student loan refinancing lender to receive the AAA rating from both Standard & Poor's and DBRS on its senior notes in its first securitization transaction comprised of this type of education loan product. Find out more…
SoFi: $300 Reader Bonus
Fixed:
2.99% to 6.88% (with AutoPay)
2.25% to 6.43% APR (without AutoPay).
Variable:
2.25% to 6.43% APR (with AutoPay).
2.56% to 7.362% APR (without AutoPay)
SoFi is one of the few lenders that consolidate and refinance both federal and private loans. They also have a program specifically for medical and dental residents with only $100 monthly payments. Whether you're looking to lower your monthly payments or pay off your loans as soon as possible, they have flexible terms and rates to suit your needs. Find out more…
Variable rates 2.80% — 5.90%
Fixed rates 3.37% — 7.02%
With Laurel Road, you can see your rate options instantly after filling out their short form – no hard credit pull required. Doctors have the option of refinancing student debt while they are in residency and before they begin practicing as attending physicians. Residents can defer making full payments on their loan up to 6 months after their residency and fellowships. Find out more…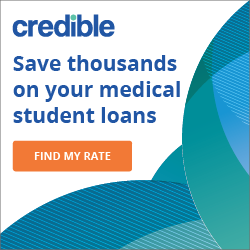 Credible: $300 Reader Bonus
Variable rates start at 2.57%
Fixed rates start at 3.35%
Credible is unique in that when you apply through their simple form, you can actually compare refinancing rates from up to 11 different lenders. They have great options for both doctors and residents, and with their easy to use online tools, you can get actual rates based on your credit profile, rather than estimates. Find out more…
LendKey: $200 Reader Bonus
Variable rates 1.91% – 5.25%
Fixed rates 2.95% – 7.63%
What sets LendKey apart is their relationship with over 275 not-for-profit lenders that they can confidently bring to consumers, allowing you to choose the best loan option for you. They focus on working with community lenders who channel most of their loans to the neighborhoods where their depositors live and work, helping to keep local communities vibrant and growing. Find out more…
Earnest: $200 Reader Bonus
Variable rates 2.57% – 5.87%
Fixed rates 3.25% – 6.32%
With Earnest, you can customize your exact monthly payment to fit your budget. Additionally, they match your custom term with a custom interest rate — saving you even more money when refinancing. Find out more…
Fixed Rates: 1.95% – 3.95%
First Republic has some of the lowest fixed rates out there, and if you pay off your loans in full within 4 years, they'll even give you back the interest paid against your loan, up to 2.00% of the original loan balance. Unfortunately they're not available nationwide though, so be sure to check out their locations to see if you can take advantage. Find out more…
*In order to get the First Republic PIMD reader bonus, email contact@passiveincomemd.com with the words "First Republic Referral" in the subject line for a direct referral or contact Kerry Berchtold at 339-235-0419 or kberchtold@firstrepublic.com and let her know you were referred by PIMD.