Sponsors
March 7, 2017 • 5 Min Read
I am grateful for the following sponsors who believe in my ultimate mission to help everyone achieve financial freedom through multiple streams of passive income. They allow me to spend time focused on creating and curating content for this site.
I have vetted each of these sponsors to make sure they provide value to any reader of this site. If you're in need of these particular services, I encourage you to see if they're the right fit for you.
If you're interested in joining us as a sponsor, please contact us.
---
Lawrence B. Keller, CFP®, CLU®, ChFC®, RHU®, LUTCF has been in the insurance and financial services industry since 1990. Unlike medicine, which has a standardized path that physicians must take to gain the education, training and experience requirements necessary to obtain board certification, the insurance and financial services industry does not. Working with an agent that is familiar with the underwriting of both disability and life insurance policies for physicians can all but guarantee a smooth underwriting process in which the desired outcome is likely. While he might not be a doctor's first phone call regarding their insurance needs, he is often their last.
Since 1993, Set For Life Insurance has been a national leader in helping thousands of physicians with their disability insurance needs. They have the largest portfolio of available exclusive discounts in the country. Set for Life also has the largest availability of unisex rates nationwide helping women save significantly. As independent brokers, they shop around and help compare plans to find the most suitable policy at the best available price. Jamie Fleischner, President of Set for Life, is known for her responsive, knowledgeable, and down to earth manner when working with her clients.
Fox & Company Wealth Management
Johanna Fox Turner, CPA, CFP ® , RLP ® is the founder of Fox & Co. CPAs, Inc. and Fox & Co. Wealth Management, a fee-only financial planning and investment management firm for doctors. She has 35 years of experience advising HNW clients on wealth protection, comprehensive financial planning, multi-state tax services, estate planning, business consulting, and succession planning. Both firms provide virtual Fixed Fee and hourly advice to clients throughout the USA and Mexico. If you're too busy to juggle multiple advisors and want to clarify your finances, schedule a free consultation here.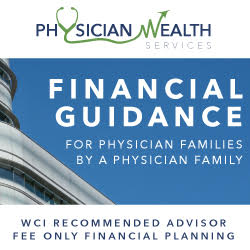 Physician Wealth Services
Ryan Inman created his virtual, fee-only practice to help young physicians take control of their finances. As part of a physician family, Ryan knows the pains, struggles and joys that come from a career in medicine. When his wife was in residency, he witnessed how vulnerable she was to poor financial advice that wasn't in her best interest. Because of this, he shifted his practice to work exclusively with young physicians who could truly benefit from unbiased, quality financial advice. PWS seeks to provide clients with the financial literacy they didn't received despite decades in school. He offers student loan analysis, comprehensive financial planning (starting at $200/mo.), and investment management (.75% per year) with no investment minimums. Wondering if you can save for retirement while paying off student loans? Click here.
Curbside Real Estate is a concierge brokerage that specializes in connecting physicians, many of whom have recently completed their residency programs or fellowships, with the best home loan program for them and a carefully-vetted real estate agent, effectively eliminating the guesswork and frustration commonly associated with buying a home. The mission of Curbside Real Estate is twofold. Its primary mission is to allow physicians to focus more on their profession and families, and less on the stresses of buying a home, by streamlining the process. Its secondary mission is to give back by creating homes for underprivileged children.
Contract Diagnostics is the country's only firm 100% dedicated to Physician Contract Reviews. Their proprietary review process focuses around educating their Physician clients on how to negotiate and ask for things, what specifically to ask for, and an overall view of the 'deal'. Not a law firm, they provide overall 'deal' advice in a much more comprehensive manner than a traditional lawyer would. While their attorney's review every contract, it is presented in a much different way based on your specific situation. Private Practice vs Hospital employed? Hospitalist vs Trauma Surgeon? California vs Florida…they are familiar with all the nuances of each specific situation and would love to help with yours.
As a physician, it may be difficult to find the time to search and manage good investments. While many physicians turn to the stock market and bonds out of convenience, real estate investments are just as simple to own. Through HomeUnion, you can truly invest in real estate passively. We provide all the services needed to remotely own residential investment properties in growing markets: from selecting properties, handling acquisition, maximizing income, performing management, and selling the asset. You Invest, We Do the Rest.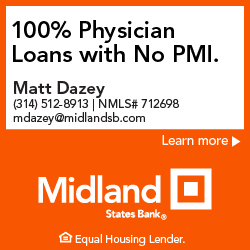 Matt Dazey
Matt Dazey is a Vice President and Mortgage Loan officer at Midland States Bank, one of the premier physician lenders in the nation. They're unique in that they offer 0% down payment physician home loans, without PMI, in specific areas. Feel free to reach out to him any time with any questions. He'd be happy to help.
Disclaimer: The topic presented in this article is provided as general information and for educational purposes. It is not a substitute for professional advice. Accordingly, before taking action, consult with your team of professionals.