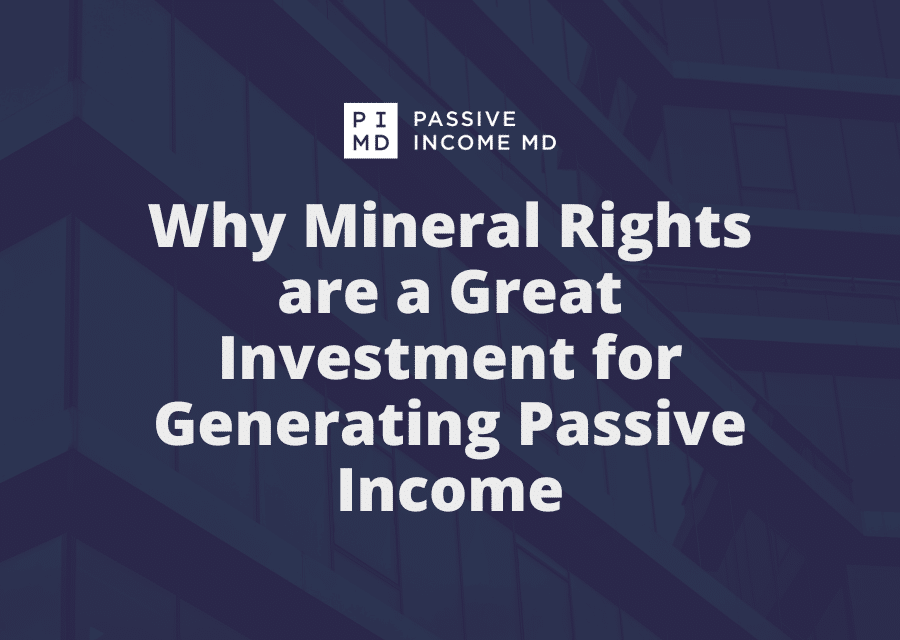 Why Mineral Rights are a Great Investment for Generating Passive Income
April 12, 2023 • 6 Min Read
Just as we use our medical skills repeatedly in our area of expertise, over time we find we work with more confidence, ease and even perfection. By the same rationale, Eckard Enterprises knows that after years of pursuing energy assets, they have developed a unique approach to mineral rights investing that has raised them up as an industry leader.

I'm not an expert in mineral rights, but the author of this post is, Troy Eckard, CEO/Manager of Eckard Enterprises, LLC. He does a fantastic job laying out what energy investing is all about.
---
The value of strategic planning and selecting assets aligned with your personal goals is paramount. Just as patients seek the best in medical care based upon expertise and experience, medical professionals should seek the same qualities when investing and determining which professionals to follow and trust. In this article, we will discuss why investing in mineral rights is a wise strategy in building your portfolio.
Expertise and Experience
Eckard Enterprises, LLC
and myself are considered industry leaders and experts in our field, allowing 3rd party accredited investors to participate in direct ownership of oil and gas assets like mineral rights. Since 1985, I have made a career out of investing and working in the US oil and gas industry. I have found no better tool for building and protecting long-term wealth than investing in mineral rights.
Why Mineral Rights
Mineral rights are at the top of the food chain in the oil and gas industry. These valuable assets allow investors to become landlords for major oil and gas companies seeking to develop mineral rights for oil and gas extractions.
There is no better passive investment vehicle on the market today for generating monthly revenue than oil and gas mineral rights. Mineral rights provide:
Portfolio diversification.
A significant hedge against inflation.
Decades of monthly royalty income.
They have zero liabilities, zero holding costs, zero exposure to capital calls, and zero environmental risks.
The Value of Oil and Gas Mineral Rights
In addition, if mineral rights are acquired in the right locations, such as the Permian Basin and the Oklahoma Anadarko Basin, they experience growth in terms of additional new wells and the discovery of proven reserves over time. Imagine collecting monthly rent from a building where you have zero liability on the construction, maintain full occupancy, have no liability from tenants, and lease terms are locked in with billion-dollar tenants. This is as close to a perfect asset class for generating passive income as one can find.

Learn more about oil, gas, and mineral rights by clicking here for Passive Income MD podcast, episode #70
Ownership and Benefits
Mineral rights are "real estate," but their value is under the ground instead of above. Ownership of mineral rights provides the owner with monthly income through the receipt of royalty payments made by leases to major billion-dollar oil companies. For example, many of the tenants of Eckard Enterprises are major public and private oil and gas exploration companies with tens of billions of dollars available for harvesting the proven oil and gas reserves under our minerals. These companies spend billions of dollars on the exploration and production of oil and gas, with no cost to the mineral rights owner.
To acquire mineral rights is to own real estate that the largest oil companies in America manage, risk free from liability and capital exposure while collecting revenue every month for 25-75 years. Mineral rights do not have property taxes, are above bankruptcy, have zero exposure to future capital calls, and have no drilling or environmental liabilities. Unlike a real estate investment, mineral rights do not require ongoing maintenance or management.
A mineral owner gets paid first for all revenue generated from the minerals they own. They even get paid before the oil company that spent millions on the exploration. Mineral owners get paid monthly for all crude oil, natural gas, and natural gas liquids extracted from all wells. The volume of all hydrocarbons extracted and sold is verified through multiple sources like state tax offices, midstream buyers who collect and sell fossil fuel, and operators themselves.
The Eckard Approach
Eckard
has spent nearly a combined 100 years maintaining the strict discipline to become oil and gas asset management experts. Their management team has fine-tuned their skills and developed a unique and technical method of acquiring only the very best mineral rights in two major US Mineral Basins. Eckard is eager to share this unique tangible asset opportunity with medical professionals and other accredited investors. 
Eckard's mission is to help their partners build and protect their wealth by providing them with direct ownership in oil and gas mineral rights. Providing exclusive access to what Eckard sees as the "Best in Class" of mineral assets available to private accredited investors in the marketplace today.
Benefits Of Mineral Investing
Here are a few of the specific details about the benefits of investing in minerals:
Mineral rights are considered real estate and real property.
There is zero drilling risk and drilling liabilities.
There are zero environmental risks.
The mineral owner owns the mineral rights with all depths and all natural resources in place.
There are zero holding costs.
There is zero exposure to future expenses or capital calls.
You have the right to all revenue derived from all oil and gas extracted from any wells and formations for as long as you own the mineral rights.
The oil and gas company that leases and develops your mineral rights will be major public or private equity-backed exploration companies.
Mineral right owners get paid first from all gross income generated, regardless of the price of commodities.
Mineral rights can be acquired with traditional investment funds, through a self-directed IRA, and via 1031 tax exchanges.
I can sell Mineral rights in whole or in part at any time as the holder deems fit – it is your asset.
In Closing…
Let me be direct: mineral rights investing is a good strategy for medical professionals can use as a cornerstone of any well-balanced cash flow-focused portfolio.

Oil and gas mineral rights can be a complimentary asset choice for medical professionals, allowing you to make money while you perform your profession without any additional effort. Mineral rights ownership is a wise investment strategy for those looking for true passive income that can yield above-market-rate returns. Like a medical case to be assessed, the only conclusive summation is that for anyone who desires long-term cash flow paid monthly in real estate for decades of capital and liability-free income, there is only one solution – mineral rights.

Eckard Enterprises provides a one, and two-punch combination of expertise and experience, and we are here to help you understand mineral rights thoroughly. We work with investors daily to ensure they receive maximum benefits from their oil and gas minerals when the time is right.
Ready to learn more?
Reach out to our team at EckardEnterprises.com
---
Learn more about how we can help you start, scale, and grow a thriving business. Join our Passive Income Docs Facebook Group and start receiving priority access to new opportunities and shared resources.
Disclaimer: The topic presented in this article is provided as general information and for educational purposes. It is not a substitute for professional advice. Accordingly, before taking action, consult with your team of professionals.