10 Podcasts Doctors Should Really Be Listening To
January 28, 2017 • 7 Min Read
What do you do on your commute to work? I used to listen to music, which I still enjoy doing from time to time, but I've found that my commute time is an amazing opportunity to educate myself and learn something new, especially on matters of finance and passive income.
Podcasts are one of the best resources to do just that. When I figured out that I could pack so much learning into one drive to the hospital, I felt like I had discovered an untapped gold mine of time. Doctors always feel strapped for time, so why not just use the little free time we have more efficiently?
The problem is, there are what seems like hundreds of thousands of podcasts to choose from. So how do you choose? You could try listening to hundreds of different ones to figure out what you do or don't like (which I did) or you can start by checking out my personal favorites and ones I feel you should really be listening to. Check them out:
*(For those of you who have no idea how to actually get them on your phone, see the end of this post)
A podcast where ordinary doctors are doing extraordinary things. Dr. Nii Darko, a general surgeon who himself is doing things "outside the box", interviews other doctors pushing the boundaries of what a career with a medical degree looks like. Stories always motivate me, especially ones like these from other physicians.
Notable episodes:
Episode 9 – Your Private Doctor Will See You Now
Episode 13 – An Anesthesiologist Taking the Pain Away From the Home Buying Experience
The White Coat Investor ventures into a new medium to continue his mission of educating physicians on matters of finance. These have just been released but I've already listened to three episodes. I'm already a huge fan of the website so I can't wait to hear what else he has coming down the pipeline.
Notable episodes:
Paying Down Student Loans vs Investing – What Should You Do?
WCI #3 – How to Choose a Financial Advisor


Ryan Inman is a financial advisor that is married to a physician so understands the unique needs of the physician family. He's a great teacher and has a passion for helping out physicians that clearly comes through in his interviews.
Notable episodes:
Leveraging Your Medical Degree to Earn Side Income
How Doctors Can Reach Financial Independence in Their 40s
This podcast is run by Dr. Carrie Reynolds and is often co-hosted by Dr. Bonnie Koo. Dr. Reynolds wanted to create a space where women doctors could come together and share their stories of their business, project or side-hustle. Do you need to be a woman to enjoy the podcast though? Absolutely not, I'm a fan.
Notable episodes:
Ep 012 – Amy Baxter, MD: Inventor of the Buzzy Pain Blocker
Ep 015 – Friends Talk Finance: Having Children & Maternity Leave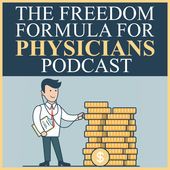 How Doctors Cut Debt & Slash Taxes / Business Of Medicine / Financial Education. Dave Denniston, a CPA, speaks from his experience of helping physicians and non-physicians in the world of personal finance. He also takes the time to speak to practicing physicians about their financial history, successes, and mistakes in order for other physicians to learn from.
Notable episodes:
The Best 12 Pieces of Advice from The Advisor to Doctors
Making it Rain Dollars in Debt Forgiveness with Bo Liu (aka Future Proof MD)
This podcast is run by an anesthesiologist, Dr. David Draghinas. He highlights physicians that are doing interesting things outside of medicine.
Notable episodes:
Burn Out, Quitting Medicine, and Redemption with Dr. Chris Mina
Pursue Your Passions with Dr. Melissa Franckowiak
Real Estate Investing and Wealth Building to Help You Get Bigger Pockets. Coupled with their website, Josh Dorkin and Brandon Turner have created the best resource for real estate investors and people who want to be real estate investors. Their website & podcast helped me launch my real estate investing career and I hope it does the same for you.
Notable episodes:
A Step-by-Step Guide to Buying Your First Real Estate Investment
Turning Good Income Into Incredible Legacy Wealth with NFL Star Ryan Broyles
If you haven't heard about TED talks, they're short, powerful talks given by people in Technology, Entertainment and Design (plus many other topics) in order to share ideas. Each podcast episode is centered on a common theme (such as happiness, meditation, and food) and you get to hear from experts in those field. You can't help but feel much more enlightened after listening to each episode.
Notable episodes:
The economy, explained, with stories and surprises. As they put it, "Imagine you could call up a friend and say, "Meet me at the bar and tell me what's going on with the economy." That's what they're going for at Planet Money and I can tell you it rarely disappoints. I always walk away knowing more about how the US & world economy actually works.
Notable Episodes:
Professor Blackjack
Why Textbook Prices Keep Climbing
Pat Flynn reveals his online business and blogging strategies, income sources and marketing tips to ultimately help you discover how you can create multiple passive income streams. His site is also a "how-to" guide to starting your own online business. He's sincere and I love all the information he delivers in such a simple and practical way. He's all about developing multiple income streams so you can have the time and freedom to do what you love. Hmm, that should sound familiar to anyone who's been reading this blog for a while. Great for the physician who's thinking about doing a side hustle for passive income.
Notable episodes:
SPI Podcast Best of 2016
15 Entrepreneurs Answer: "What I Wish I'd Known Before Starting My Own Business"
Each week, hear surprising conversations that explore the riddles of everyday life and the weird wrinkles of human nature—from cheating and crime to parenting and sports. It's a great way to also learn about the economy, packed in an entertaining and informative way. Some are more fun but others are more in depth like the Bad Medicine series Future Proof MD highlighted in his Future Proof Shares. 
Notable episodes:
Is the American Dream Really Dead?
Bad Medicine (Parts 1-3)
---
What are some of your favorite podcasts? What should I have on this list that I've left off? I'm always looking for more content and would love to hear what everyone else is listening to.
[*For those who don't know how to start listening to podcasts, simply to go to your podcasts icon on your phone (iPhone, Android, or other). If you can't find it on on your phone, consider downloading the Overcast App, a great podcast player.
Search for these podcasts by name, and simply hit Subscribe. A few episodes will be downloaded to your phone and all you need to do is pick them as you would pick a song to listen to. Older episodes are available as download or streaming as well. Let me know if you have any questions, I'd be happy to walk you through it.]
Disclaimer: The topic presented in this article is provided as general information and for educational purposes. It is not a substitute for professional advice. Accordingly, before taking action, consult with your team of professionals.