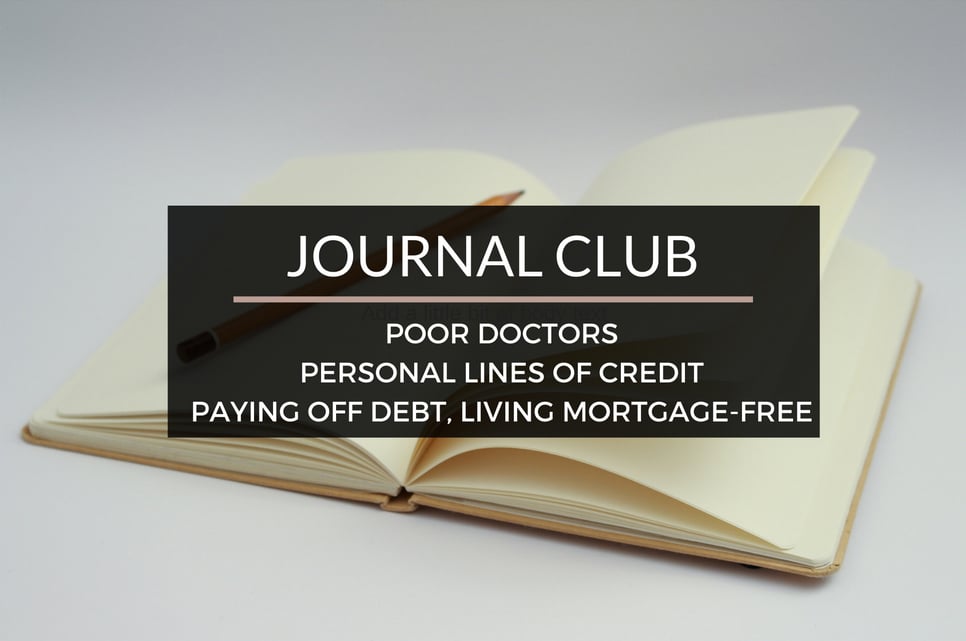 Journal Club 12-17-16
December 17, 2016 • 4 Min Read
Topics: Poor Doctors, Personal Lines of Credit, Paying Off Debt, Living Mortgage-Free
Every week, I hold a JOURNAL CLUB. After manually filtering through the millions of articles out there, I present a few that I impacted my life this week. This will also help lay the foundation for some of the topics that we'll dig into deeper on this website.
Here's our Journal Club for the week, enjoy!
Here's something crazy, there are only 2 weeks left in the year! Time does seem to go by so much more quickly with age. (A Scientific American article tackles the subject here. Nice read.) Through a few stories I heard this week, I was also reminded that I'm not guaranteed any more time on this earth.
So it begs the question, am I making the best use of limited time and energy? Personally, that's something I'll be really poring over these last couple weeks before 2017 begins.
In other news, my daughter is 3 and a half years old and is starting to understand that this is a very good time of year. We've already talked to three different Santas and she's gotten candy canes from each one of them. Santa is finally her friend this year. I have to say, I'm really enjoying the holidays seeing it somewhat through her eyes.
Hope everyone gets to enjoy the holidays as much as she does!
Passive Income M.D.
Sponsor Highlight
Physician Financial Services
Lawrence B. Keller, CFP®, CLU®, ChFC®, RHU®, LUTCF has been in the insurance and financial services industry since 1990. Unlike medicine, which has a standardized path that physicians must take to gain the education, training and experience requirements necessary to obtain board certification, the insurance and financial services industry does not. Working with an agent that is familiar with the underwriting of both disability and life insurance policies for physicians can all but guarantee a smooth underwriting process in which the desired outcome is likely. While he might not be a doctor's first phone call regarding their insurance needs, he is often their last.
Disclaimer: The topic presented in this article is provided as general information and for educational purposes. It is not a substitute for professional advice. Accordingly, before taking action, consult with your team of professionals.