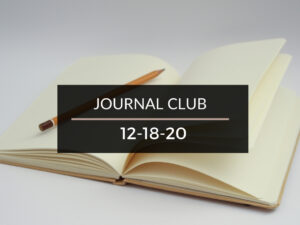 Here's Journal Club 12/18/20! Every week, I hold a JOURNAL CLUB. After filtering through the articles on the web, I present a few that impacted my life this week. Be safe and stay well!
---
If you own rental properties and are also making payments on your own home, deciding which one to pay off first is a very common dilemma.

In this article from Financial Success MD

, the author gives some good reasons why you should focus on one mortgage at a time and how to choose which one to go after first.
hen it comes to their financial lives, some people are adamant about budgeting. Others prefer a simpler approach: paying "yourself" first. This is the topic of

this great article from The Physician Philosopher

, and it covers not only an easier alternative to budgeting, but how you can automate the entire process.
More than ever before, this year showed us how problematic it can be to rely on a single source of income. As we enter 2021, this article from Semi-Retired MD gives us some great reasons to focus (or continue to focus) on creating as many streams of passive income as we can–especially through rental properties.
The FIRE movement (Financial Independence, Retire Early) has become more and more popular over the last few years. I'm happy to say that I've achieved that goal after years of work, and so I'm a big advocate. But there are a lot of misconceptions about the process. This article from Fire and Wide breaks them down and presents realistic expectations rather than the all-too-common romanticism.
That's it for this week! I hope Journal Club 12/18/20 was helpful to you.
Lastly, here's a little bit of motivation below. Enjoy and have a great weekend!
---

---
---