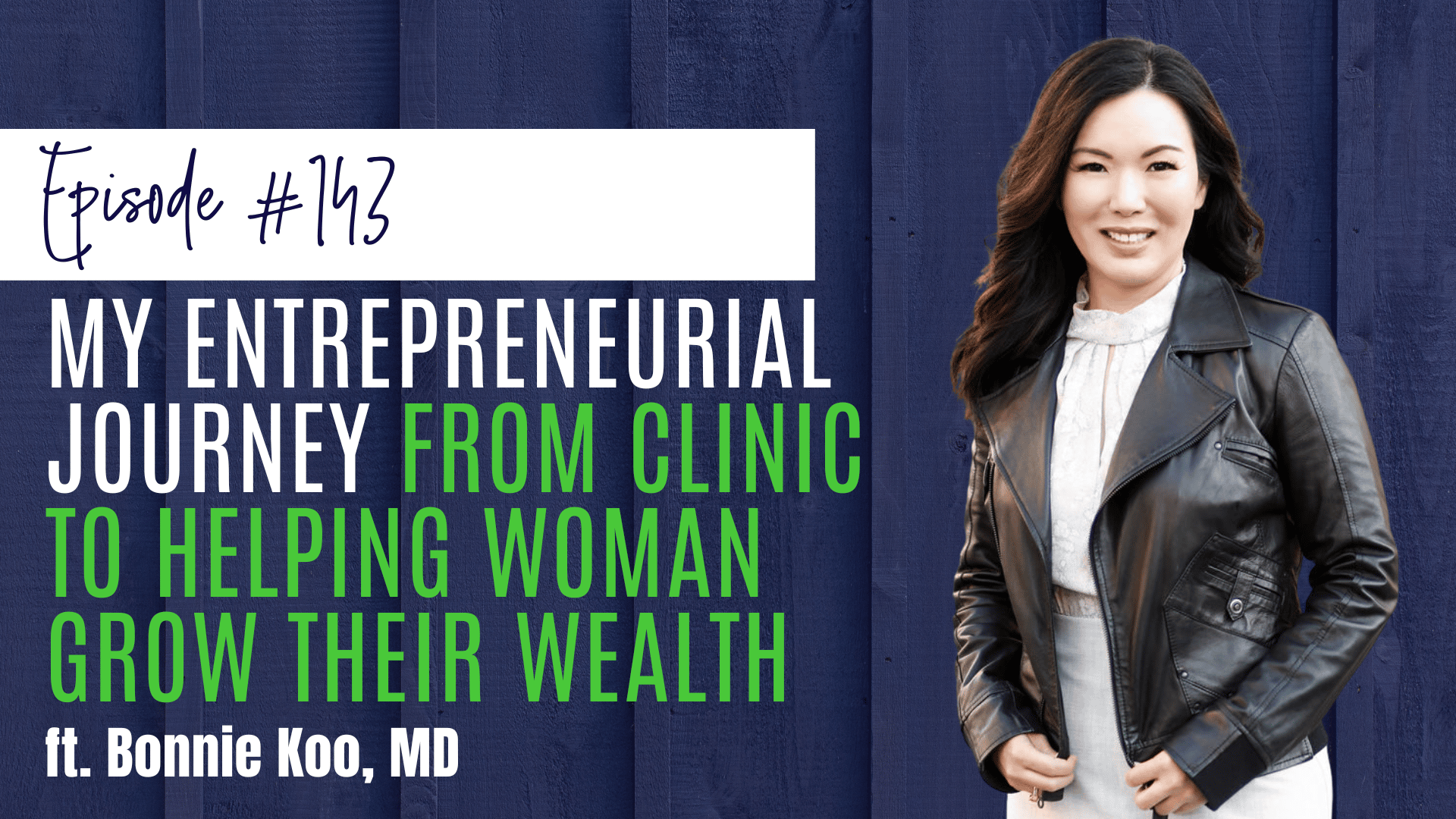 Episode #143
#143 My Entrepreneurial Journey From Clinic To Helping Women Grow Their Wealth, ft. Dr. Bonnie Koo
In this episode, Dr. Kim interviews Dr. Bonnie Koo. She is one of the most fascinating women in medicine. She is a dermatologist and certified life coach passionate about helping Type-A, successful women with personal finance strategies. 
While facing her own financial struggles after completing her medical degree at Columbia, Bonnie educated herself on how to make her money work for her. Now, she hosts The Wealthy Mom MD Podcast and provides women with the tools they need to create wealth through her workshops and interactive programs. 
This interview first aired at our Leverage & Growth Summit. Bonnie was one of our 30 plus Docpreneurs sharing their story to inspire other physicians to leverage their ideas to create passive income. 
Are you ready to model successful people and start growing your income streams? Learn more about the free LEVERAGE & GROWTH SUMMIT. 
Plan now to join us for our free virtual summit, March 15-19. 
28 Min • January 23
Episode Highlights
Now, let's look at what we discussed in this episode:
Defining Wealth For Women

Wealthy Mom MD

Finding your focus as a entrepreneur

Recommended resources 

Balancing entrepreneurship and practicing medicine

Creating system and structure around your business idea

Process of writing a book

Entrepreneur challenges
Episode Breakdown
[02:24]
Defining Wealth for Women: (n.) Peace, Purpose, and Plenty of Cash!
It's easy to get sucked in to just making and having money available, which can easily shift you from having a deeper life purpose and peace of mind. "The way you think about money impacts the amount of money you have." – Bonnie Koo, MD
[03:13]
Wealthy Mom MD
Over the years, her brand has evolved. It started out purely about financial education in a blog. After working with her coach, they worked through the limiting beliefs about money. In the process she realized that it's not being smart enough to know how to manage and grow your finances, it came down to her limiting beliefs that were getting in her way of helping women with money.
[06:30]
Finding your focus as an entrepreneur
Solving her personal problems with her finances, gave Bonnie the awareness that there were other women struggling in the same way. She broke off her limiting belief that "there are already many coaches out there doing this," and that she is a specific voice for a specific audience.
[08:21]
Recommended resources
Bonnie chose to DIY her 1st Blog on WordPress. Marie Forleo's B-School and Amy Porterfield Courses were the courses she studied. She spent a year blogging and doing her personal course research and education. She pre-sold the course, then when the course launched she created one lesson at a time. Bonnie recommends you get version 1 out there and then perfect it.
[11:53]
Balancing practicing medicine and entrepreneurship
Bonnie shares that at first it was a grind working all day, and coming home to write and record content. Eventually, she retired from medicine. She recommends to others to make subtle changes in your lifestyle now, and not wait till you're a zillionaire.
[14:03]
Creating a system and structure around your business idea
As mundane as it sounds… Bonnie decided "to go all in, and if it fails, I'll go back to being a doctor full time."
[15:06]
Process of writing a book
Before writing, the process is in the doing, teaching, engaging with others through the contents and purpose of the book before I wrote it in book form. The reason Bonnie wrote Defining Wealth For Women was to make the message accessible, to leave a legacy, and it has become a great business card. Bonnie went with Scribe Media for the writing and publishing process.
[20:03]
Entrepreneurial tip… just keep moving.
Bonnie built an intentional life. Her education, training, and experience of being a physician has helped in all areas of life to become successful.  "We are great at learning new skills, be in a community to grow in the areas you want to grow." 
Bonnie recommends that "If you are inspired by this talk, that is because there is a part of you that wants to do that. Don't ignore your dream. And take the next step."

Get in touch with Dr. Bonnie Koo…
Website: https://wealthymommd.com/
Book: Defining Wealth For Women
Are you ready to model successful people and start growing your income streams? Learn more about the free
LEVERAGE & GROWTH SUMMIT
.