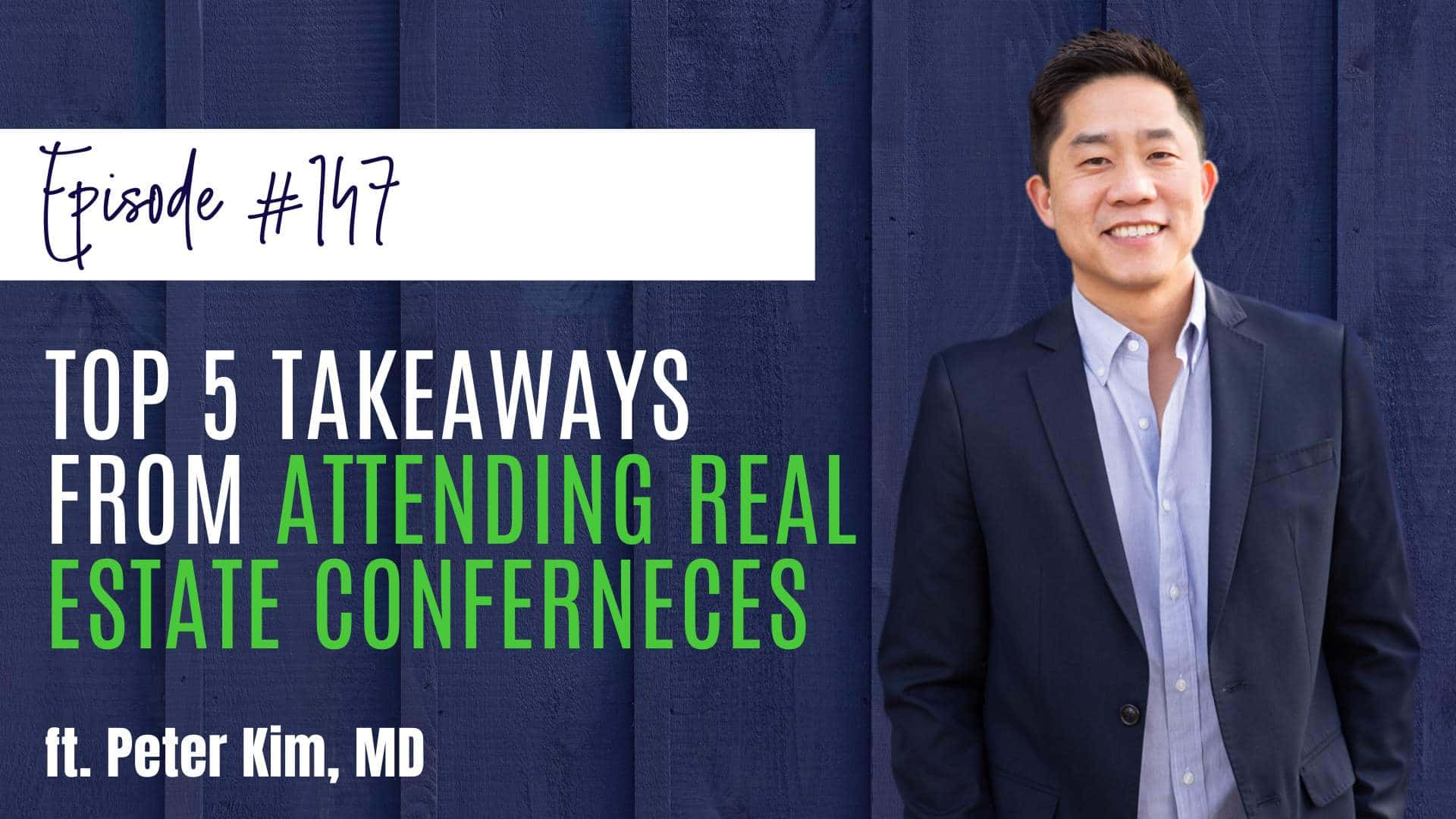 Episode #147
#147 Top 5 Takeaways From Attending Real Estate Conferences
Attending a Real Estate Conference is a little like speed dating. A big event gives you the opportunity to meet with various syndicators, operators, brokers, or investors.
Believing in the phrase "success leaves clues," seek time at conferences with those who have years of experience.
Peter's goal in attending the conference was to ask those with years of passive real estate experience, if this is a good season to invest and to discover what is out there. 
In this episode, Dr. Peter Kim discusses his five big takeaways in investing during this turbulent season. 

Did you know I have a newsletter dedicated to sharing active real estate opportunities? It's called the Real Estate Insider and doesn't cost anything to receive it. It is published once or twice a month, depending on if we see deals by reputable sponsors.
We already have thousands following along, so if you'd like access… make sure to CLICK HERE!
18 Min • February 20
Episode Highlights
Now, let's look at what we discussed in this episode:
Success leaves clues

There is no shock for the current economic season

There is cash out there among big investors

Know the risk and the options out there for finacing

Where to find the deals

Win at the long-game

Surround yourself with community
Here's a breakdown of how this episode unfolds.
Episode Breakdown
[01:52]
Who To Spend Time With At A Real Estate Conference

Believing in the phrase "success leaves clues," seek time with those who have years of experience. Learn from these people what they feel the market is currently doing and whether this is a good time to invest. 
[02:59]
1. There is no shock in our current economic season
It does not shock experts in the real estate investing world that interest, and inflation rates have risen. Lessons learned in 2008 were carried forward today. They believe the volatility from 2022 will smooth out. When interest rates rise, they shake out over time in the economy. People are optimistic about what the outcome will be.
[06:04]
2. There is liquidity out there
There is cash amongst the big investors. In 2008 many big companies were cash poor, now they have cash to invest. In this scenario, during the pandemic, many big companies hoarded cash. As interest rates rise, large institutions are holding unto their cash and waiting for better times. Through history, what moves prices forward is when big institutional money moves, prices will go up or down. Resulting in the cap rates going down. 
[8:01]
3. Risk in the marketplace
Risk lies in the financing, or the debt. There are various options for financing to review: floating debt, long-term debt, loan assumptions with low interest rates, loan extensions, balloon payment at the end, refinance into longer term debt, or interest rates caps. Stay in the know of what is available to you. 
[11:59]
4. Opportunities exist
The greatest transfer of wealth happens in the wintertime, when things are not great in the marketplace. There may be companies that did not do well when the market shifted, and now they need to be offloaded at a discount. If investors have capital, very little competition, and big investors are frozen, it could present itself as a good time to invest.
[13:57]
5. You win this when you are in for the long-term
Asking the sponsors, with decades of experience, they would say that the key to their success is being a long-term investor. There is a compound effect when you partner with the right sponsors at the right time. 
We are entering the zone of maximum financial opportunity. There is an opportunity for people to catch the market on the down-slope and the up-slope. When you continue to invest when the market is down, you will catch the upswing.
[17:33]
Bonus: Surround yourself with community
Network, ask the right questions, spend time with others. In 20 minute segments of time I learned so much more than from books or podcast. So, partner with the best, play for the long-term and diversify your portfolio to build long-term wealth, security and freedom to live the life you want.
This episode is brought to you by Limitless.
Dr. Vikra Raya is offering a free gift to the listeners of Passive Income MD Podcast. 
Go to VikramRaya.com/gift and get the free "The Limitless Physician's Guide to Building Wealth" ebook today. In this book, Dr. Raya will give you… A 7-step plan to help you achieve ultimate vitality in all areas of your life.
For this free resource, go to… VikramRaya.com/gift
Are you ready to model successful people and start growing your income streams? Learn more about the free
LEVERAGE & GROWTH SUMMIT
.