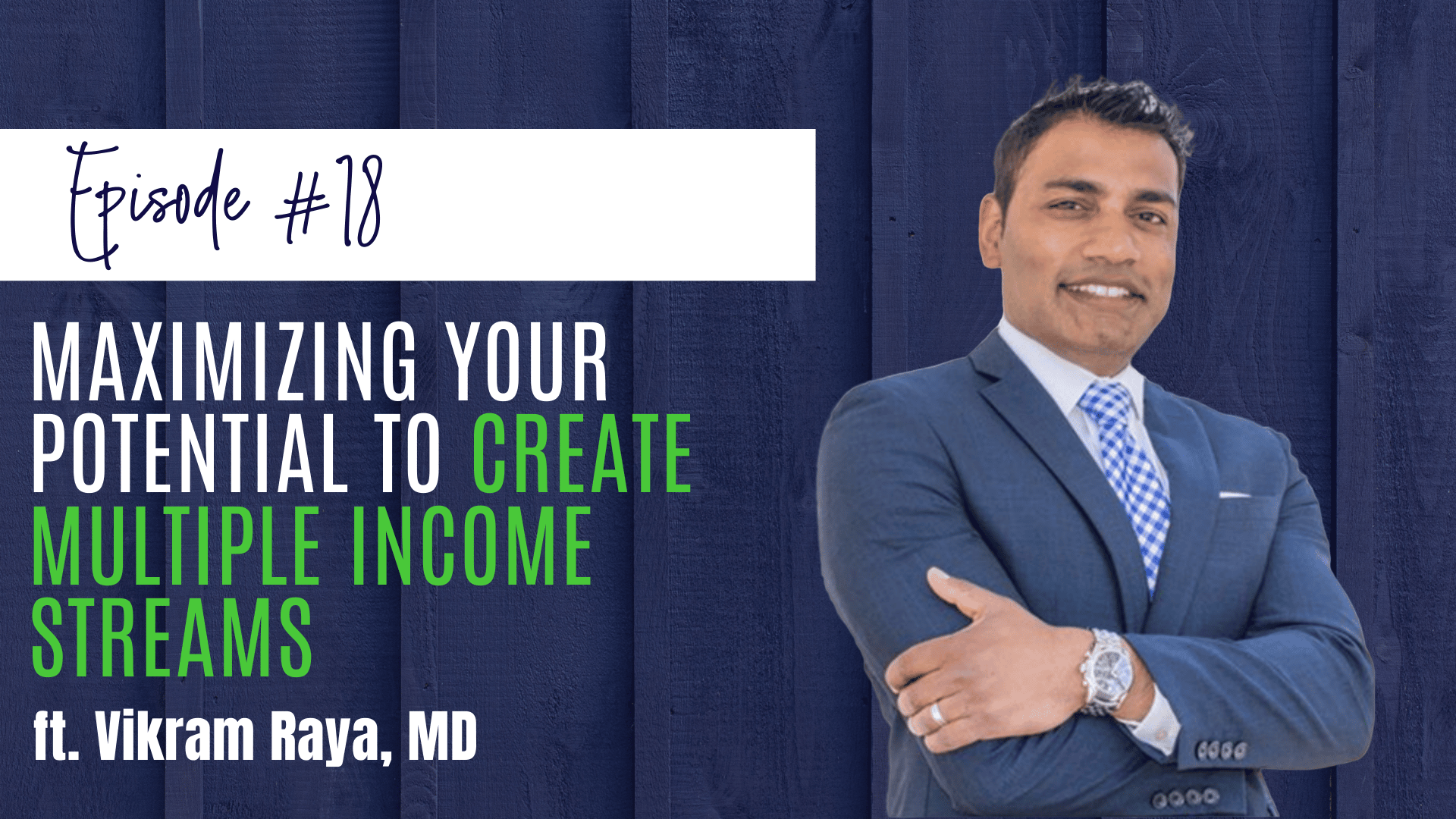 #18: Maximizing Your Potential to Create Multiple Income Streams ft. Vikram Raya, MD
May 25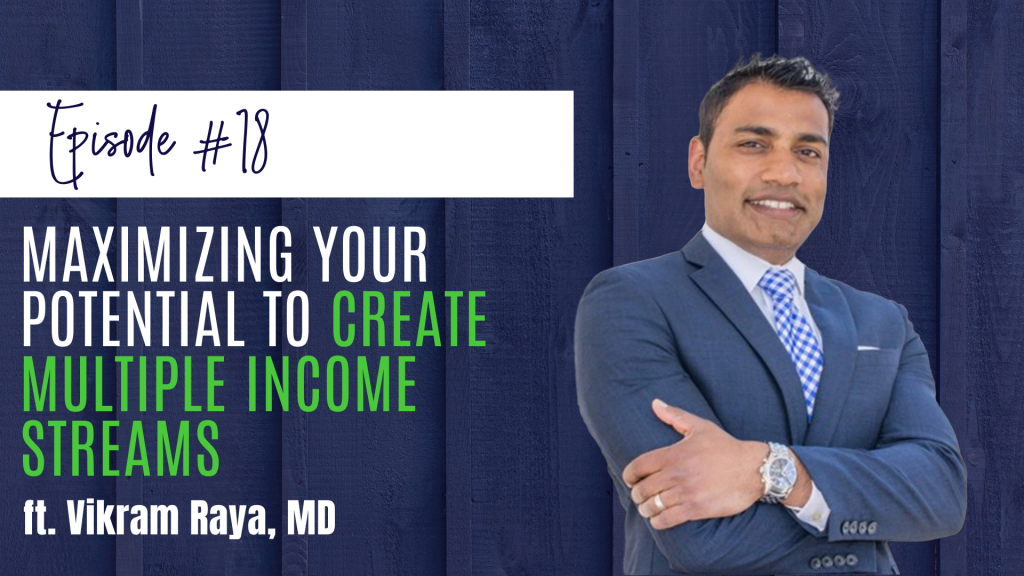 Dr. Vikram Raya is a cardiologist, who looks for opportunities – and finds them! In today's episode, he'll tell us how he started investigating different ideas and stepping out of his comfort zone. He'll explain how he wanted to transition from a physician to an entrepreneur – and did it!
He found out he wanted more when he attended an Integrative Health Symposium. Dr. Raya wanted to work with clients on getting to the root cause of their health problems. His interest in helping patients on a deeper level led to Dr. Raya to earning a four-year certification in functional medicine.
Then he started thinking about how to diversify his income. That's when he came across the popular book Rich Dad, Poor Dad by Robert Kiyosaki, which led him to a podcast that I often recommend to my clients: BiggerPockets. He also started listening to business books on his daily commute and took on a business mindset coach Trevor McGregor, who showed Dr. Raya the "highest and best version" of himself. He eventually started a side hustle which allowed him to make the transition from a physician to an entrepreneur with a couple of very successful businesses!
Now, let's look at five things you'll learn about reaching your full potential!
Defining your potential.

Making the most of your time.

Strategies for investing in real estate.

Breaking free from standardized goals and limiting beliefs.

Bridge the gap between possibilities and your true capability.
Here's a breakdown of how this episode unfolds…
About four or five years into practicing cardiology, I was like, wait a minute, this is not what I thought it was. I think many people can relate to this. You're taking care of the patients and you're doing good for them. Then you realize there was a different level that you could take them to, and it obviously involves lifestyle.
There's so much I'm leaving off the table, there's so much I would like to share with my clients and my patients that they need to hear. Instead of us just putting a band-aid on these problems, there must be a way to go after the root cause.
In fellowship, when I was training, I was like, I want to earn income. Oh, I heard stocks are easy. I heard options are easy. I actually went and tried to do options trading while I was a fellow in cardiology, and it was a complete disaster. I was like, this is too hard. It takes too much time. I have no clue what I'm doing. That's when I was like, alright, let me get my medical degree, my medical income. Let me get my medical practice set up and then I'll start exploring.
I get up at 4:30 every morning. I know it sounds crazy. Having that extra hour or two hours to do meditation, mindset, workouts, journaling, and affirmations. Scheduling my whole day and being very pristine and very intentional in how I attack the day has helped me have exponential progress. So look, all of this started in about 2015. I was a traditional cardiologist. It's 2020, I have Viking Capital, which is my real estate company, multifamily syndication company, we own 12 apartment complexes all over the country, and we control $300 million worth of real estate. In that same five years. I also started two wellness companies.
Everyone is capable of many things, but really, what you're capable of and what you're actually producing. There's such a gap, and to go from that gap of what's possible to what's your true capability, that's where the magic lives in life.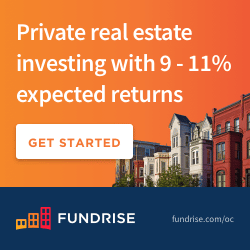 Subscribe & Review in iTunes
Hey there – are you subscribed to my podcast? If you aren't, please show your support of the show by doing so now. I don't want you to miss a beat, so if you're not subscribed, there's a good chance you'll miss out on those. Click here to subscribe to iTunes!
If you're one of our super special followers, I would be really appreciative if you also left me a review over on iTunes. Those reviews help other people find my podcast. Why not spread the insight to help other physicians and professionals on their passive income journey? Just click here to review, select "Ratings and Reviews" and "Write a Review" and let me know why you enjoy the show so much. Thank you!
OTHER WAYS TO ENJOY THIS POST:
Download a Transcript (coming soon!)
Download on iTunes