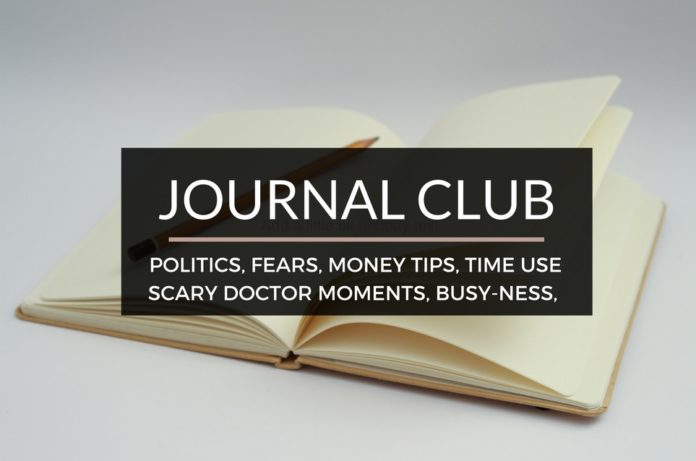 Topics: Politics, Fears, Money Tips, Scary Doctor Moments, Busy-ness, Use of Time
Every week, I hold a JOURNAL CLUB. After manually filtering through the millions of articles out there, I present a few that I think are extremely impactful. This will help lay the foundation for some of the topics that we'll dig into on this website.
Again please note that there a new Sponsor Q&A section at the end where I get a little personal and try to get to know them a little bit better.
Here's our Journal Club for the week, enjoy!.
I was really never that big into Halloween prior to having kids. If I had to dress up to go to a party I'd put together a costume that took the least amount of effort and you can forget about me trying to be clever. However, now that I have children, I look forward to this holiday so much, mostly because kids look so freakin cute in costumes. See exhibit A.
Anyways, I was able to attend my child's halloween parade at school today and even though not much happened, it did make me think, I never want to miss these moments. It's moments like this that keep me motivated to continually push for financial independence.
Thanks for your continued support of the site. Have a great Halloween!
Passive Income, M.D.
Sponsor Q&A
You mention on your site that your husband is a physician. What medicine does he practice?
He's a Palliative Care physician.
Your company's acronym, "FIT", leads us to believe you live a fit lifestyle yourself. What type of exercise/ activities do you enjoy?​
F.I.T. actually stands for Financial, Investment and Tax planning but I do believe in an active lifestyle. Since I live in a beach town, I love to run and bike along the water.  In the evenings, my husband and I take our 5-month old daughter for walks in the neighborhood.  We used to live in Chicago and it was tough being confined indoors 6-8 months out of the year so we are really enjoying the nice weather all year round.
​
Anjali Jariwala is a CPA and CFP® with a decade of success in tax consulting and financial planning.  She founded FIT Advisors to combine these two skill sets and elucidate tax implications during financial planning. Frustrated by the way many financial planners push products with hidden fees and commissions, Anjali decided to exclusively use evidence-based investment strategies and a transparent fee-only structure to eliminate any conflicts of interests.  Anjali takes a holistic approach as a financial life planner, helping clients discover their goals and build a secure future.