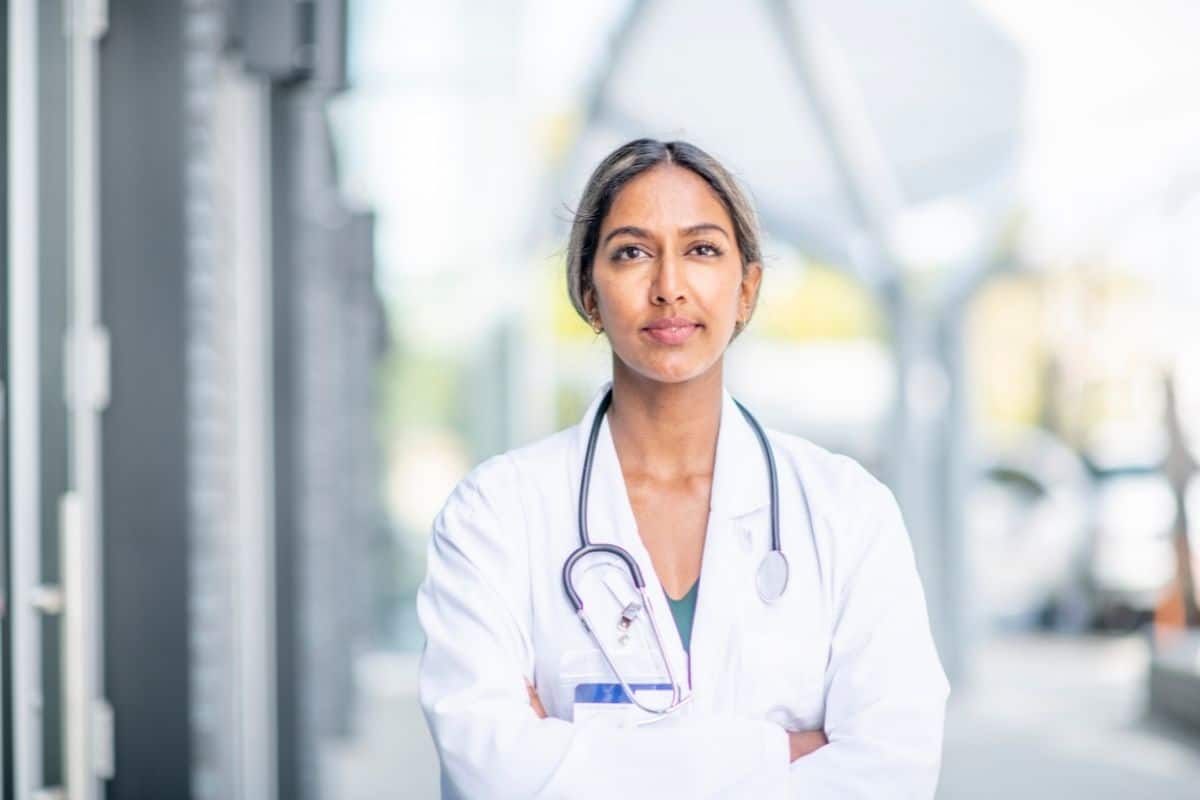 5 Ways to Earn Income Outside Of the Hospital
March 3, 2022 • 7 Min Read
I enjoy my medical career and the opportunity to help people, and I think it's safe to say that you feel the same. Why else would we, and every other physician, spend more than a decade training for our jobs? There must be a passion for people, health, science, or a combination of all three.  
But, at some point, you may want to reduce your clinical hours and spend your time a bit differently. Maybe you've always wanted to pursue some other passions and have decided that now is the time. Maybe your job isn't quite as fulfilling as it used to be. Maybe the nights and weekends are taking a toll on you. Perhaps you might find yourself needing a new source of income when you face uncertainties. 
There are plenty of reasons why you'd want to explore ways to earn income outside of the hospital or clinic. I've rounded up five entrepreneurial ideas for doctors to help you find one that's right for you.
Five Top Entrepreneurial Ideas for Doctors
1. Real Estate
I'm a huge fan of the potential to generate passive income from real estate. Here's a look at several ways to earn this type of income.
Syndications and Funds
Passive real estate investing means that you are investing in real estate WITHOUT being a landlord. How's that possible? Well, it's done through investing as a limited partner in a deal that someone else operates. You still own a piece of the rental property but someone else spends the time, energy, and experience to successfully run the deal.
It's completely passive after you perform the proper due diligence on the deal and take action to invest. You're often given distributions during the life of the investment and a nice profit once the property is sold. You might even receive back all of your initial investment through a refinance during the deal and be in a position of receiving infinite returns. 
There are so many passive real estate investing opportunities (often referred to as syndications or private real estate funds) out there if you know where to look. There are several real estate crowdfunding sites out there which make access easy but I also prefer to speak to friends who have had great experiences with a particular operator.
Long and short-term rentals
For folks who like the more active side of real estate and enjoy the opportunity to be a landlord, long and short-term rental properties offer the opportunity for cash flow and equity growth.
Major benefits of owning your own properties are the control and the fact that you owe less in fees because there isn't someone else running the deal. Long-term rentals generally refer to your classic "lease for a year" type properties or apartment buildings whereas short-term rentals refer to vacation homes / Airbnb type properties. 
They each have their pros and cons and it's important to understand which might make more sense for you, your time, and your investment goals.
2. Coaching
As physicians, we're constantly helping our patients to live better, do better, and be better. We use our expertise in our given fields to help in any way necessary.
So it's no surprise that so many physicians have turned to coaching as a side gig or side hustle. There isn't a perfect definition to the term coaching but I like to say it's helping someone unlock their full potential.
We all know professional athletes, including the best in the world have coaches to help guide and keep them at the top of their games. However, it was surprising to find out that so many high-level entrepreneurs and yes, doctors, had coaches.
These coaches might specialize in business skills, life and productivity, managing burnout and mid-career crisis, and even weight loss. I've found the best coaches use their past experiences to help others do the same.
Some might say that as physicians, we're natural coaches and I've seen so many become successful at either supplementing their current incomes by becoming coaches or even transitioning to full-time coaches.
I've highlighted many successful coaches at our past Leverage & Growth Summits, (taking place on 3/9/22, check it out here). 
3. Create Educational Content Online
Another entrepreneurial idea for doctors is providing online instructional content. Online course work is similar to coaching in that you share your expertise and passion with others in a convenient, curated fashion.
Blogging
Starting a blog
is easy enough with a little bit of effort. The challenge comes with figuring out your niche, your voice, and ultimately how to create income from it. However, these things are all "figure-out-able."
Plenty of doctors have done so and have figured out the business side of blogging – creating income through sponsors, affiliates, and even their own products (see below).
Online Courses
Access to information isn't a problem today. In fact, we have too much information at our fingertips and it can be completely overwhelming.
So there's a ton of value in figuring out how to take a subject and package the learning in a concise and easy format with clear objectives.
That's where courses come into play. Sure, someone can just give you a book, but as we did in med school and college, it helps to have someone guide you through the material. This is a huge reason why people will simply invest in courses. Your time is valuable and it's easier to figure out what to do when someone has packaged it all neatly for you.
I've literally taken dozens of courses on all sorts of subjects, from creating a podcast to better time management and so many things in between.
If you have something that you often find yourself teaching others, why not create an online version of it that will help so many others and that people are willing to pay you for. It's an awesome way to create passive income. 
4. Medical Writing
Some people loathe writing; others love it. For those in the latter category, why not pair your talent for writing with your understanding of the medical world? Just as there are many ways, you can specialize in your medical career, the same is true in writing. Here's a look at various projects you could do as a medical freelancer. 
Journalism
Write on medical topics and stories using layman's terms geared towards a non-medical audience. 

Write a column in a local newspaper or magazine.

Create consumer-facing health and wellness content. 
Medical Products
Create user manuals and website content for new products.

Write sales brochures targeted towards doctors and hospitals. 

Write promotional literature that medical device and drug companies give to consumers.



Academic and Research
Write up case studies and the results of research.

Create press releases announcing the results of the data.

Write, revise, edit medical textbooks or curriculum.
The best way to find freelance medical writing jobs is to search LinkedIn, Indeed, Glassdoor, and Upwork. You can also do a Google search for "freelance medical writing jobs." Add areas of your specialty or company names to get even more specific.
You can create a portfolio of your work to send to prospective clients, starting with your own med school papers (if you have nothing more recent). Be sure to check out the American Medical Writers Association for more info if you want to get into medical writing. 
5. Expert Medical Consulting
Lawyers and insurance companies use physicians to review cases and testify as experts. You can offer this service independently or team up with a third-party company that assists law firms and insurance companies in finding qualified doctors to review the facts and give their professional opinions. While this entrepreneurial idea for doctors will keep you in the medical field, it's not tied to any location. 
Leverage Your Knowledge to Start Creating Additional Income
I know I've mentioned five ways but there are seemingly an endless number of ways that I've seen physicians create additional income streams outside of clinical medicine. I've put together some of them in my list of physician side hustles.
If you're also interested in hearing from those physicians directly, make sure to register for the free Leverage & Growth Summit 2022, held virtually from March 9th-13th, 2022. I can't wait to see you there! Come ready to be inspired by physicians doing amazing things outside of clinical medicine to create their ideal lives.
Disclaimer: The topic presented in this article is provided as general information and for educational purposes. It is not a substitute for professional advice. Accordingly, before taking action, consult with your team of professionals.