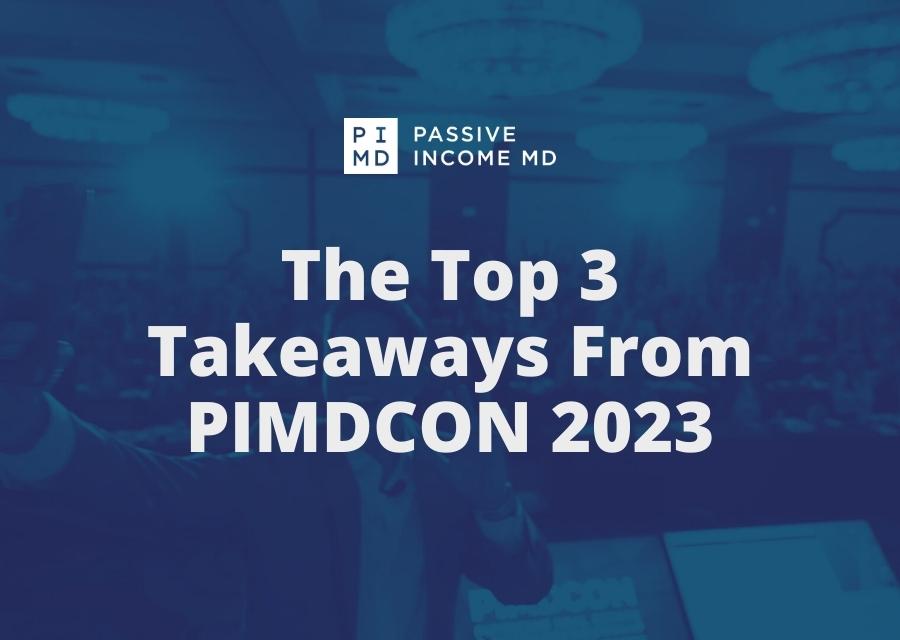 The Top 3 Takeaways From PIMDCON 2023
October 18, 2023 • 7 Min Read
What is it like to attend a PIMDCON conference?
There, ideas blossom, friendships are forged, and actions are ignited from the magic that happens when like-minded, ambitious individuals gather.
This year, PIMDCON 2023 wasn't just a conference. It was a melting pot of inspiration and aspiration that focused on real estate investment and entrepreneurship. The air was charged with anticipation as attendees immersed themselves in the wealth of knowledge provided by more than thirty speakers and panelists. The eagerness to collaborate and grow was palpable.
For those in attendance, thanks for being part of it, and I hope you gained a ton of value to put toward your future financial goals.
With attendance doubling, we brought together a community from all over the United States (more than forty-four states represented)! The room was buzzing, the energy was high, and every corner was filled with enthusiastic individuals eager to connect, make new friends, and exchange groundbreaking ideas.
Topics included everything under the sun, ranging from taxes, asset protection, the current state of the economy, the "zone of maximum financial opportunity," mindset, and taking action. Things like taxes and asset protection may not sound exciting, but our experts and enthusiastic community found a way! 
Throughout our fifth-annual gathering, we experienced some truly extraordinary things and brought together all our communities at Passive Income MD into one wonderful event: The Physician Real Estate & Entrepreneurship Conference.
As a window into the spirit of PIMDCON, these were my top three takeaways from this year's incredible conference.
TAKEAWAY #1 – Diverse Aspirations and Backgrounds
People from all walks of life—whether just finishing residency or nearing retirement—gathered at PIMDCON 2023 with one common goal: attaining the financial freedom to live life on their own terms. It was amazing to see that range.
But there was also a range in real estate experience. Some already owned 100 units, some had yet to make their first deal and were just getting started. All in one room, they connected and made plans about their investment futures. It was inspiring to see such a variety of individuals united by a shared ambition. 
Each person had a story. One person I spoke with sought to take back control of their time. Another wanted to earn enough money to help their parents out. Another, their children. I had the pleasure of meeting so many physicians with unique goals, and I'd like to share a few of them with you right now.
One physician, nearing retirement, had been a loyal listener of my podcast for years. This year, he finally joined PIMDCON in LA for the first time. Remarkably, just three days prior to the conference, he made his first investment in passive real estate. With the knowledge and connections he made, he left PIMDCON 2023 with renewed confidence and a belief that it's never too late to take action and achieve financial freedom in the years to come.
I also met a couple from San Antonio—a physician and a pharmacist. Last year, they experienced PIMDCON virtually and were so captivated by the wealth of knowledge, they vowed not to miss the live experience again. They joined this year's conference in eager to explore and expand their passive real estate portfolio further.
Next year, I hope to learn about your unique story, too.
TAKEAWAY #2 – Building Connections
In the investment world, few things are as important as building connections. And doctors are awesome connectors. We do it all day with our patients—collaborating, empathizing, and serving within short periods of time. But what happens when you get doctors in a room with other doctors? Instant bond. That bond and desire to serve each other is one of the main benefits of PIMDCON, especially this year. 
The conference brought together like-minded individuals all pursuing similar goals. There was no I'm-smarter-than-you, competitive energy or need to explain your presence at a passive income conference. People came as they were, open and with a common professional background. The relationships formed quickly and the ideas exchanged were truly invaluable.
Networking is indeed a catalyst for success
that opens doors to opportunities, and PIMDCON offered that. At the end of a rejuvenating conference day, I remember talking with a doctor at the bottom of the elevators—many of us were going to continue our conversations at a nearby happy hour. She mentioned that normally when she attends conferences she goes straight up to her hotel room. Because PIMDCON was so vibrantly focused on actionable steps and collaboration, she felt the importance of connecting, getting support, and learning beyond the conference. Near the end of happy hour, she said it felt amazing being in a community where she could share, be vulnerable, and come away with a new network. 
During a PIMDCON conference, one of the best connectors are small group sessions, called MasterMind Sessions. This year was no different. Each day, we'd break off into groups of five or six people to share experiences and strategies. These small circles encouraged other connections, and many people were able to meet some of the conference sponsors and resources. This provided attendees with valuable strategies on how to get through this particular economic situation. 
It was clear that people walked out of this event with friends, new accountability partners, and relationships that will lead to actionable steps toward enduring wealth. In the end, it became a community.
TAKEAWAY #3 – Taking Action
Perhaps the most impactful takeaway was seeing people take action. At PIMDCON, a consistent and significant theme is the importance of taking action. Education and knowledge are very important, but putting that knowledge into action is essential. As Tony Robbins says, "Knowledge is only potential power. Action is power."
So, at PIMDCON 2023, we challenged people to take action. That included creating action steps, and actually writing them down. One doctor I spoke with used that action plan to resume work on their startup. I overheard another doctor, on the phone with his wife, setting a goal of finding an investment property before the end of the year. And during the final party, an attendee told me they had put in an offer on the first day of the conference. By that final party, she was in escrow on her very first property. It was so cool, and I was so happy for her!
Fueled by newfound knowledge and connections, attendees took decisive steps toward their investment goals. I, too, was inspired to take action, reshaping my perspective on financial independence as I continually revamp PIMDCON and Passive Income MD to best serve its community.
A CALL TO ACTION
Investing to secure your financial freedom requires that you take actionable steps. How can you challenge yourself to take those next steps? What motivates you in pursuit of financial freedom? Are you ready to take the next step?
If you're feeling inspired and ready to take the next step toward financial freedom, I highly recommend joining the Passive Real Estate Academy (PREA). Our courses offer fantastic content and resources to deepen your knowledge and skills in passive real estate. 
Courses only open twice a year, and each time we redevelop our offerings to make sure it's fresh, on fire, and designed to help you navigate the current market. PREA helps you prepare and jump on great deals that are coming down the pipe. Go to PassiveRealEstateAcademy.com for more information.
This community is amazing, both at what you do but also for your enthusiasm to serve each other's goals of financial freedom. If you were part of this event, I'd like to hear from you in the comments. What did you get out of it? Let me know, and tell your friends and colleagues.
If you weren't able to make it this year, we'd love to see you next year. Take that actionable step.
Join our community at Passive Income Doc Facebook Group.
Disclaimer: The topic presented in this article is provided as general information and for educational purposes. It is not a substitute for professional advice. Accordingly, before taking action, consult with your team of professionals.