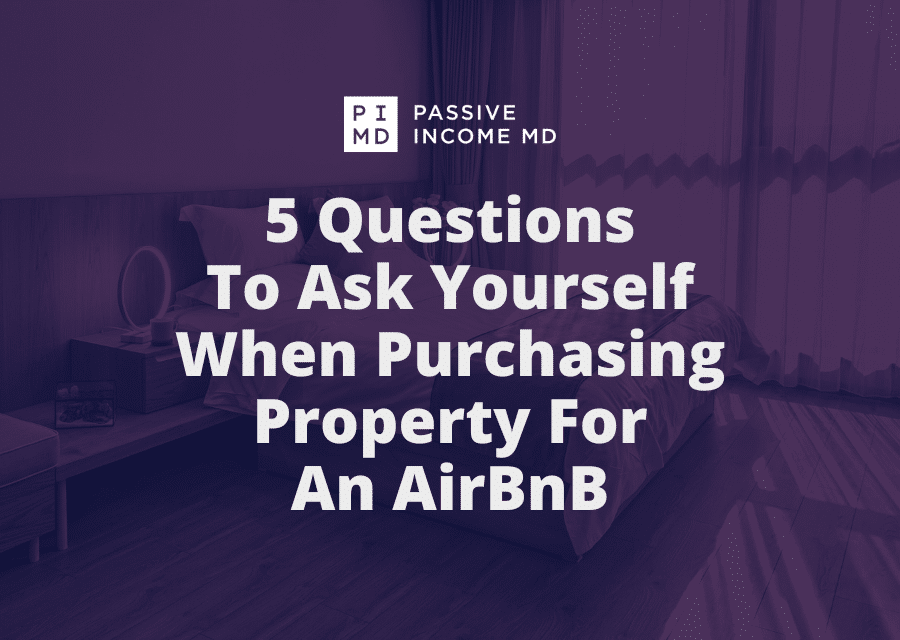 5 Questions To Ask Yourself When Purchasing Property For An AirBnB
July 12, 2023 • 7 Min Read
Short-term rentals are an amazing investment opportunity, but it's not as easy as HGTV might have you think. Before you start searching for properties or begin planning color schemes or collecting fun furniture, there are a few questions to ask yourself when purchasing property for an AirBnB. Especially since Chip and Joanna won't be there to guide you on the journey.
This isn't to say that you shouldn't buy a vacation home to rent out on AirBnB. It's actually a great thing to do and provides you with passive income plus a nice vacation home.
You might be tempted by the spacious 4,000-square-foot five-bed, five-bathroom house that's in your sister's neighborhood and listed for what you think is a very low price. But if it's in an area that's too far off the beaten path and an hour from the football stadium, you won't have much interest from your targeted guests.
Likewise, a charming town with the friendliest folks may seem like a great location, but if there's nothing to attract out-of-towners, you'll be hard-pressed to get the bookings that net your income.
So what do you need to consider before investing in a short-term rental?
In this article,  I have five questions for you to think about in order to help you determine if a property is right for you. 

Q1: Will the AirBnB investment property be in a vacation hot spot?
You know the popular real estate mantra: location, location, location. Having a short-term vacation rental in a busy area will help ensure your property stays rented more days than not.
There's no plug-and-play calculator that can tell you if the location is good, but a few key metrics to help you determine the potential are professional sporting teams and large national events. Don't overlook college towns for good rental properties. Homecoming and graduation weekends see a lot of traffic, as do home game weekends for football, basketball, and any other sports for which the school is well-known.
Another great way to help analyze the potential of visitors is to check the websites of the town and its Chamber of Commerce to see what activities are going on in a given year. Having national chains like Target and Starbucks doesn't hurt. These companies spend millions of dollars on researching markets, so use this to your advantage and look for places in proximity of where the people are.
My short-term rental is in a sought-after area that gets a steady stream of visitors through festivals, concerts and community events. After some home-improvements, I was able to price it in such a way that with a few multi-night bookings, I can cover an entire year's operating expenses. Here are the seven lessons I've learned from my short-term rental.
as you consider beginning a short-term rental side hustle, consider the difference between active & Passive real estate investing. Click the video below for a 60 second quick tutorial on the two.
Q2: Is the area short-term rental friendly for an AirBnB Investment?
Another piece of due diligence that you cannot afford to pass over is to ensure the location allows short-term rentals. Not every city allows its homeowners to sublease homes short-term.
Start by looking for properties in the town that are already on Airbnb or your preferred platform. From there, check the city website for regulations. Don't be afraid to call the city's zoning department to ask. You can ask them if any permits or licenses are needed in order to be compliant with city laws.
Q3: Who will handle the property management of your AirBnB?
For as passive as possible income with a short-term rental, you need a property manager who can handle the day-to-day issues as they arise. Hopefully, there won't be many, but with high turnover stays, there are many more points of contact than you'd have with a tenant who's in a 1-month lease.
The best way to find a good property management company is to get a referral from someone you know and trust. If that's not an option, head to Google to search for property management companies. Read all the reviews you can find, both the good and bad. Give the owners a call and ask for the contact info of current and past clients.
Trust your gut feeling as you sift through all the information. Remember, this is the person you'll be trusting to run your short-term rental. Open, honest communication on their part goes a long way in building trust with you, the owner, and the people who will be paying guests in your home.
Not sure where to begin on your Short-Term Rental journey… listen to our podcast episode "an intro to short-term rentals"

Q4: How much upgrading will your AirBnB investment property need?
Ideally, the less work you need to put into your property, the easier it is to get it ready, rented, and have cash flowing. A less expensive property generally needs more work, so have a set budget range in mind for both finances and time.
Let's say you choose a more expensive home in Austin that just needs to be furnished. You will pay more for it, but with some focused time spent cleaning, painting, and shopping, you could be ready to welcome guests in about a week.
A fixer-upper comes at a more attractive price point, and this could be a great option if you have a partner who can do the work. In this scenario, you could contribute the down payment while your friend or family member manages contractors or does the work themselves.
The main question is: Will you exchange money for personal time savings? Do you love a good DIY? How quickly do you want your property to be ready to be listed for short term rentals?
Q5: How much time do you want to make use onsite of your AirBnB investment property?
When I bought my vacation rental, I intentionally chose one in an area that my family and I enjoy visiting. We are happy to stay there a few times a year for a long vacation or just a weekend getaway. The property functions as a vacation home for us, plus provides a stream of passive income.
Actually, what you may find more challenging is blocking out days to stay there because you don't want to give up on any income during its peak season. I get it! It's a real struggle that I believe most people in this situation face. But if you love the location and home, you owe it to yourself and your family to actually stay and enjoy your vacation home.
As a bonus, by staying at the property, you'll get a sense of what could be added or upgraded to make the home even better. You'll also be able to create better property descriptions since you know the home, inside and out. Plus, you'll have first-hand experience with local businesses (restaurants, coffee shops, parks, shops, and activities) and can leave guests a list of your favorites.
Get started investing in short-term rentals
After reading this, maybe you're ready to jump into the short-term rental business. But, maybe you're not. Some people don't enjoy the more hands-on nature of short-term rentals. You might be better off investing in a real estate syndication. If so, check out our Passive Real Estate Academy, where it takes you from zero to confidently investing in real estate without being a landlord.
Whichever path you choose, remember that action beats inaction every time. This may be called Passive Income MD, and that is the end goal. However before an income stream becomes passive, you have to do some legwork. That's where I come in and can help guide you to a clear path including advice and lessons from my experience.
Disclaimer: The topic presented in this article is provided as general information and for educational purposes. It is not a substitute for professional advice. Accordingly, before taking action, consult with your team of professionals.