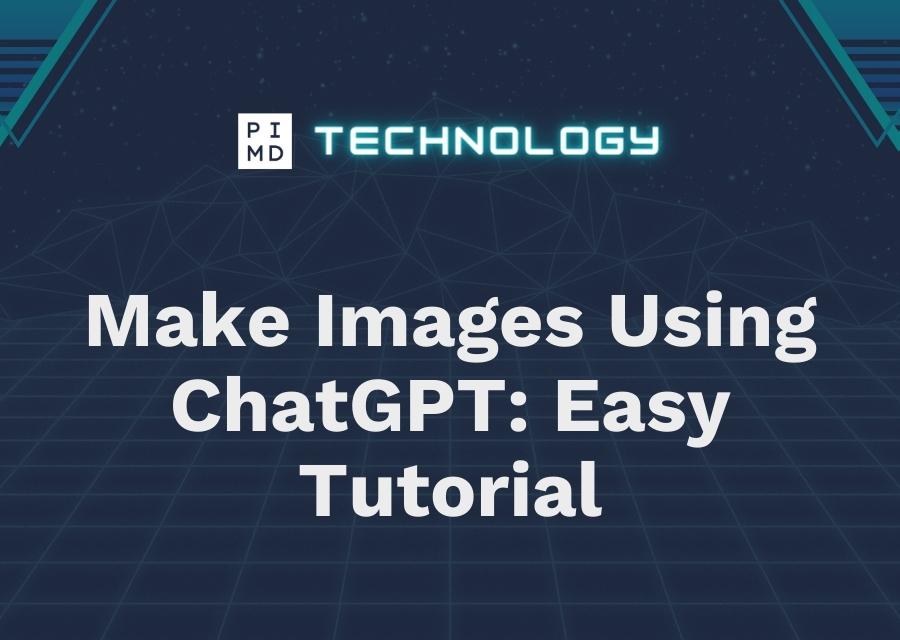 Make Images Using ChatGPT: Easy Tutorial
November 16, 2023 • 4 Min Read
ChatGPT recently got a massive update and is now even more powerful as an AI tool, but among all the amazing features it now has, the DALL-E 3 image generator showcases another fun addition that is definitely worth a try.
How do you make images using ChatGPT? What images can it make? Here's a quick step-by-step tutorial made easy!
---
OpenAI, ChatGPT, and DALL-E 3
OpenAI
has solidified ChatGPT as a central hub for generative AI by integrating DALL-E 3 and producing compelling and detailed images. This means that ChatGPT can now autonomously produce not only text but also images, sounds, and other digital media.
Alarmingly crazy, but in just months, Artificial Intelligence has taken another huge step in making things possible. But how does it get to make these images? What kind of technology is involved in the creation process?
It's all made possible by DALL-E 3, an advanced AI that will create any image at your command. The name is inspired by the 2008 movie "WALL-E", a lovable solitary robot, and the famous surrealist painter Salvador Dalí.
What is DALL-E 3?
DALL-E 3 is an AI-powered image generator developed by OpenAI. It uses deep learning algorithms to generate images from textual descriptions. Simply put, you type in or describe the image that you want and the AI will make it for you.
The latest version of DALL-E 3 is capable of producing highly detailed and convincing images, surpassing the capabilities of its predecessors. You can ask it to make a poster, signage, or even a fun AI portrait of you!
How to Make Images Using ChatGPT
Alright, now let's get started with the fun part. To use DALL-E 3, you'll need to have access to OpenAI's ChatGPT Plus or the Enterprise edition. You're already set if you have a subscription but if not, here are some options you can consider.
Step 1: Access DALL-E 3 in ChatGPT
This part is pretty straightforward, open your ChatGPT and quickly navigate to the left-hand side of the screen where you will see "Explore".
Once that is done, scroll a bit and click on DALL-E.
Step 2: Begin Crafting Your Image
On to the most important part, let us now begin crafting the image that you want by describing it in detail. Note that the more information you give to the AI, the better your results will be.
Pro Tip: 

Integrate effective ChatGPT prompts to make sure you're getting the best out of the AI. We have an AI prompt generator that will make it easy for you, check it out and get a free downloadable that will up your ChatGPT game!
In this example, we will be making an image for a coaching business. We're imagining a promotional ad for our make-believe brand "PIMD AI Coaching", spicing it a little bit by making the setting into a TED talk.
Here are the initial results: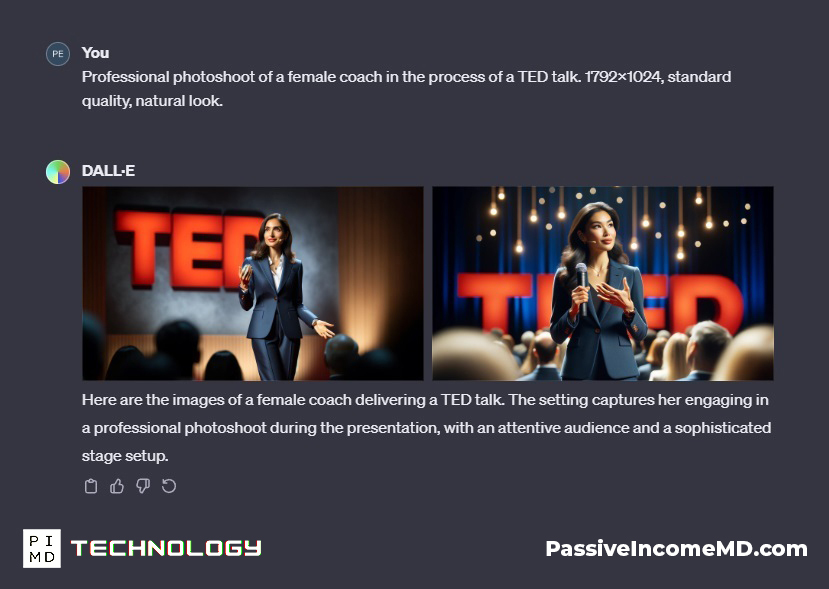 Step 3: Customize Your Image
If you want to customize it a bit more, you can tell the AI to make some changes. Here's an example where we wanted it in a TV show and made it look more natural.
Once you're satisfied with the end result, simply download the image by clicking on it and pressing the download button on the top right corner. And that's it! There you have your AI image straight from ChatGPT!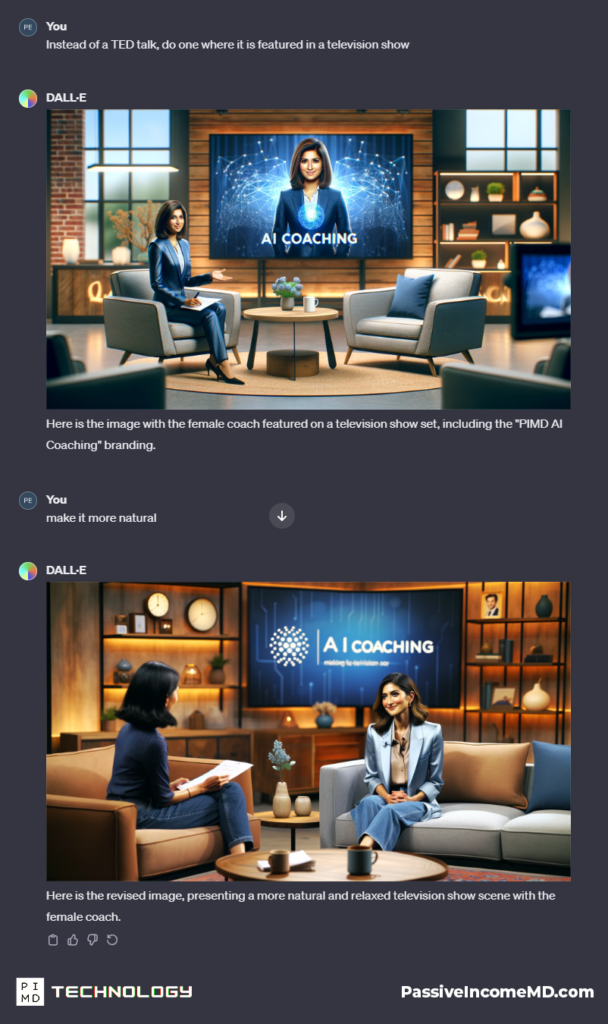 Final Thoughts
DALL-E 3 into ChatGPT is an enormous stride in the evolution of AI capabilities. This goes to show the potential for innovative applications in various fields, expanding what we already thought was possible.
Although many would argue that the images are too "AI-looking", we should keep in mind that this is only the beginning. Who knows how accurate and realistic these images will look in a year or two?
What do you think? Would you be willing to give it a try? Go all out in testing the capabilities of the ChatGPT image generator!
***PS: Do you know that we offer free AI tools? We have one that will generate the best prompts. and a ChatGPT Cheat Sheet that will level up your AI experience. Get it now!
---
If you want more content like this, make sure you subscribe to our newsletter to get updates on the latest trends for AI, tech, and so much more.
Disclaimer: The topic presented in this article is provided as general information and for educational purposes. It is not a substitute for professional advice. Accordingly, before taking action, consult with your team of professionals.